Kids Tennis Coaching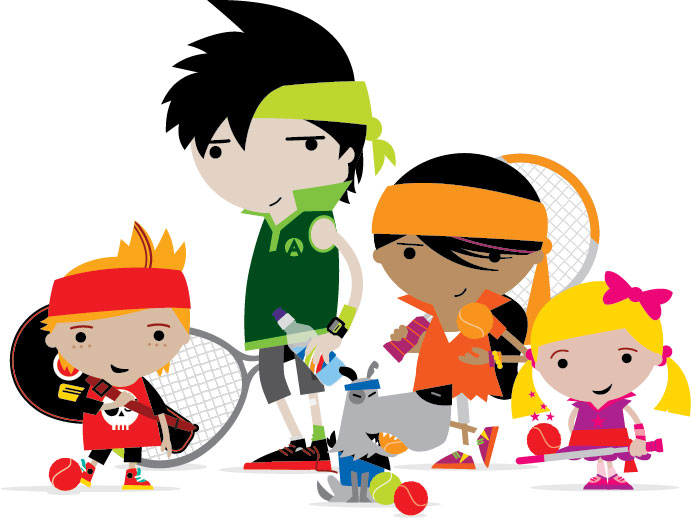 IN TERM COACHING FOR TOTS, MINIS, JUNIORS AND UNI STUDENTS
---
Offering 30+ classes and programmes weekly throughout the term with latecomer options available there's a suitable tennis session for everyone from total beginner to dedicated competitor click here to find out more
Tots (30 minutes for 3-4 years) the perfect entry level programme teaching tots fundamental motor skills in an exciting and fun and social learning environment and in which parents are an active and key part of each session
Minis (45 minutes for 5-7 years) utilising Hot Shots training equipment (age appropriate rackets, net & court size, low compression balls) techniques and coaches
Juniors coaching (60 minutes for 8-18 years) a focus on technique and match play with age and level appropriate balls, equipment and groups following the professional TENNIS PLUS coaching programme
T-Beats (60 minutes for 12+) a very active tennis cardio session to music which will get you moving more than ever before with masses of play, fun and fitness taking your game and condition to the next level. Available exclusively to juniors coaching with us this term in regular weekly technical coaching sessions such as Junior, Interclub and Interclub Plus coaching
Interclub coaching - terms 4 & 1 - (60 minutes for 10-18 years) for players involved in and/or ready for the challenge of playing competitively with a focus on strategy, technique and match play
Interclub Plus - terms 2 & 3 - (90 minutes for 10 -18 years) for players wanting to challenge their competitive play by incorporating physical conditioning, tactical stations, technical development and match play
Whackin' Wednesday (60 minutes invite only for 16-25 years) intensive training for mixed gender competitive players with music and cool on court vibe followed by a wind down on our open air balcony with a shared pizza, BBQ or sushi platter
Maximise your capabilities and fun by participating in two or more trainings e.g. combining Interclub Coaching with Juniors T-Beats sessions!
For maximum benefit all coaching sessions are small group or private coaching with 6 or less per group and are held weekly between 3.30pm to 7.30pm Monday to Friday
2021 TERM COACHING DATES
Term one starts Monday Feb 1 and runs till Saturday 17 April
Term two starts Monday 3 May and runs till Saturday 10 July
Term three starts Monday 26 July and runs till Saturday 2 October
Term four starts Monday 18 October and runs till Saturday 11 December
We welcome players at any level and stage and provide plenty of age and level appropriate equipment and session options
Contact us at admin@tennisplus.co.nz to organise your coaching today or click here for your free trial TENNIS PLUS, we love tennis!
MULTISPORT ACTIVITY HOLIDAY PROGRAMME FOR TOTS, MINIS and JUNIORS
The very popular TENNIS PLUS Holiday Programme is lots of fun! Run by our professional coaching team and incorporating an entertaining multisport format, it provides all comers plenty of physical and technical skills. Multiple age and stage appropriate groups are available for ages 3 to 18 every school holiday.
Casual day and all week sessions run from 9am to 12.30pm every school break
TENNIS ACADEMY FOR INTERCLUB PLAYERS and COMPETITIVE JUNIORS
Pre tournament & Interclub Conditioning for competitive players aged 10 and up. An intensive training format developing all key aspects of your game: technical, physical, mental and strategic through drills, skills and match play.
GAME ON: intense training: you WILL IMPROVE your game!
Run during school breaks this 3 hours daily training camp is suited to a 3 day immersion programme
UPCOMING HOLIDAY PROGRAMMES and TENNIS ACADEMY
December 2020
January 2021
April 2021
July 2021
Holiday Programme fees are $150 for a 5 day or $35 per day. No tennis experience needed for the Holiday Programme and beginners are very welcome and an extensive range of loan rackets are available to suit all ages from Tot to Adult players
Tennis Academy fees are $100 for the 3 day Tennis Academy or $35 per day. Developed for ages Interclub and Competitive players aged 10 to 25 a competitive level of play is a requirement and players will be challenged
Bookings are essential so contact us at admin@tennisplus.co.nz to organise yours today and click here to register TENNIS PLUS, we love tennis!
Also see our Tennis Trips & Tours page for tennis circuits outside of Auckland and New Zealand.