Social
Midweek Volley - June 2020
Wed, 24 Jun 2020 00:00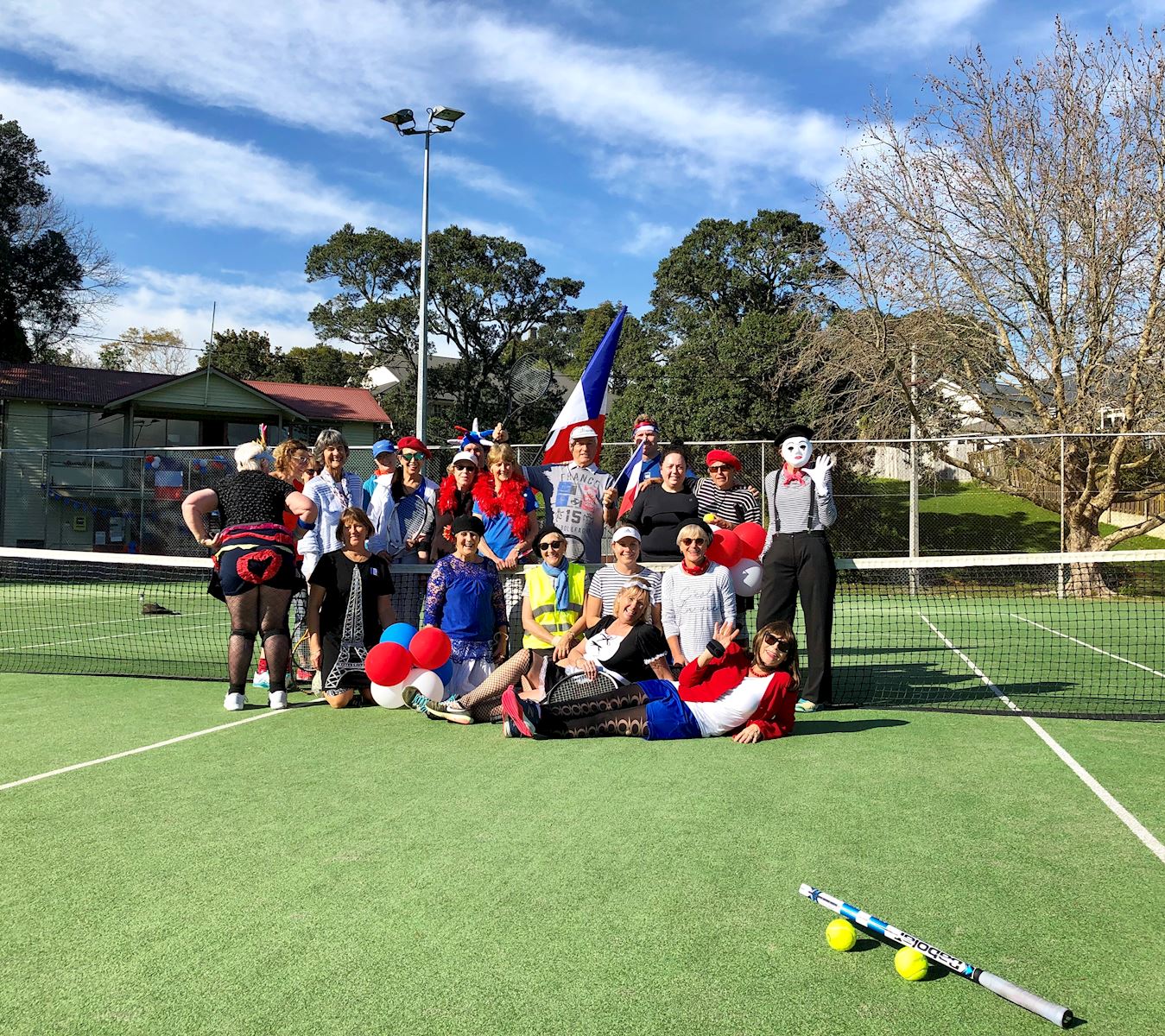 The Midweek Volley
June 2020- Level 1

WELCOME BACK TO LEVEL 1
The interest, enthusiasm and attendance on our Wednesday mornings is a joy to behold. And the weather has been very kind to us also.
Once upon a time on the middle of June we would have had a couple of courts in use.
Now we are having all courts filled with the odd extra player in the middle waiting
patiently for a gap. Fabulous tennis with fabulous friends.
As always we have a few dates for you to look forward to so get your diary ready.
25 June Pam's 70th
Birthday Bash
22 July Bastille Day
(our delayed version).
Join in with another crazy fancy dress day if you desire.
5 August
Midweek AGM - bring a plate TBC
21 October
Pink tennis - Breast Cancer
Fundraiser. Get those pretty pink outfits ready again.
YIPPEE!
With all the upheaval with Covid19 the committee has made the call to not run the midweek champs this year as we were running out of time and didn't want to clash with the main club champs. That means that you all have another year to practice and will be even more slick next year.
It is great to see the coaches back out there sharpening up our play and running Attackmax etc.
Thanks guys we're loving it!
The Midweek Volley
"The walk of Shame"
THERE STILL seems to be a little confusion with the format for rotating our games on Wednesday mornings. In Summer the top court is court 1. With the extra shade in winter the top court has shifted to court 5. If there is no sun, well who knows!!! Ask on the day.

At the end of the game: the winners move towards the top court and split and the losers stay and split sides. The game on the top court is different : the losers have to do the 'walk of shame' and take up their spot on the lowest court and split!
ASSEYEZ-VOUS!
THERE HAS been a longtime discussion about replacing the chairs in the clubroom as some are becoming unravelled and are unable to be repaired. The French bistro chair has been mooted several times which could be a very good option to retain the colonial feel of the room and building. We don't want to it to look boring and functional like an RSA now do we? These are quite expensive at around $130- and we were wondering whether members might like to buy one as a club donation? If you would consider this please let us know. We will also need to fundraise (sausages). email friends@ntc.net.nz
Here are some other options!
OUR CLUB has been offered a fantastic and timely fundraising opportunity, teaming up with a family owned traditional French sausage making company, MiamMiam. For every 1m length sausage sold for $25, our club will receive 25% - $6.25. The more we sell, the more money we make.
MiamMiam!
The owner of MiamMiam, Sebastien, will be at our club rooms from 10.30am on Wednesday 22nd July for our Midweekers Bastille Day celebration. Come and try some sausage and place an order. Read more about MiamMiam and their delicious looking all natural, preservative free sausages on their website: www.miammiam.co.nz.
Orders can be made via the club on the Friends of NTC email address:
friends@ntc.net.nz