Coronavirus
Please visit Tennis New Zealand's Covid-19 page for further updates when available.
Tennis Central's position on the current Coronavirus (COVID-19) outbreak situation continues to reflect the positions advocated by the Ministry of Health, Sport NZ and Tennis NZ (see links).
Current Situation - Alert Level 1 Update: 11:59pm, 8 June
---
Renouf Tennis Centre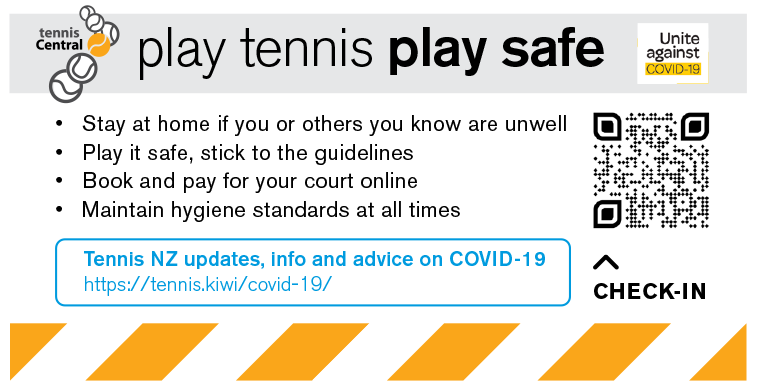 Due to upcoming renovations at the centre, please note there are no changing room facilities available at this time. Please get changed BEFORE you arrive! Only the upstairs toilet will be operating.
Please follow instructions/directions of staff.
Renouf Tennis Centre Safety Plan - Alert Level 2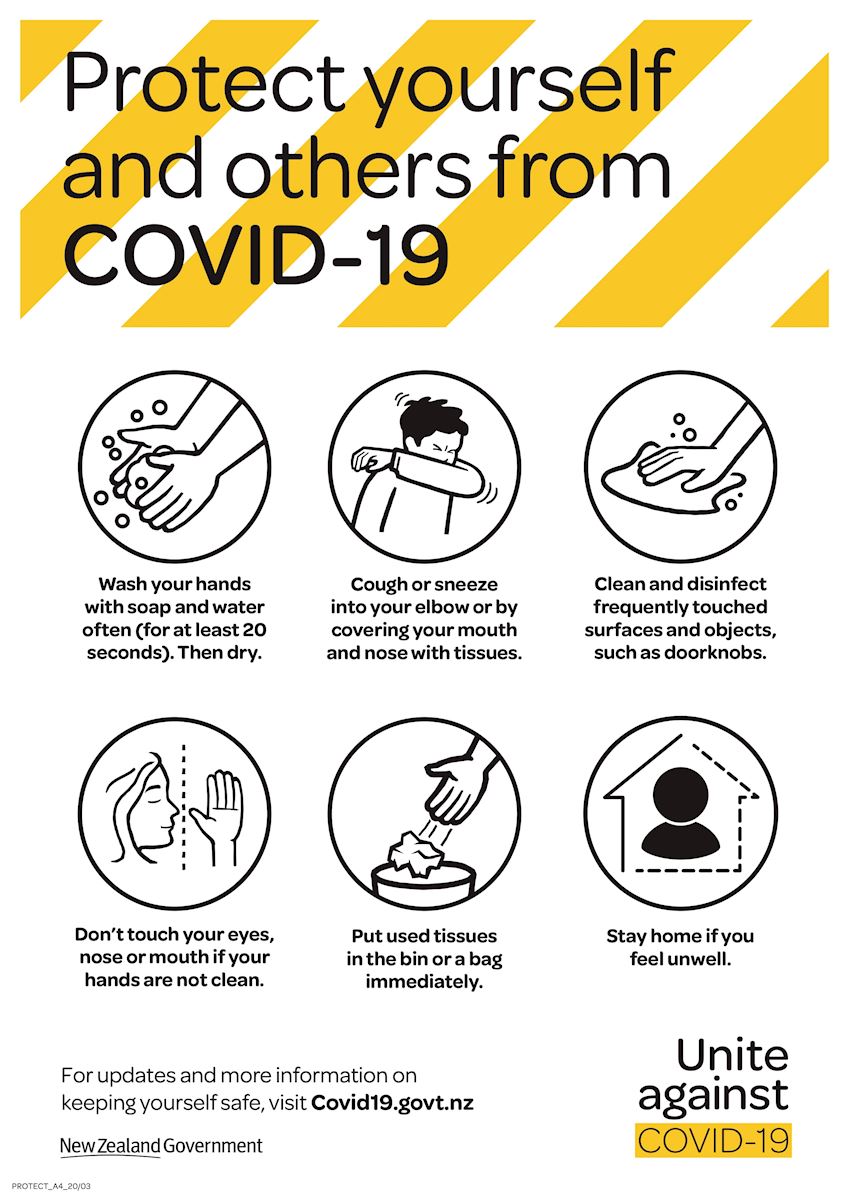 ---
Tennis Central is currently transitioning to the Ministry of Health COVID Tracer process At that point, the onus shifts from the centre/clubs to the individual. In the meantime please continue to check-in using the current Contact Tracing.
---
Sport NZ
Alert Level 2 means the return of most play, recreation and sport activities, but we still need to contain COVID-19.
Sport NZ Quick Reference for Play
Sport NZ Balance is Better National Sport Season Transition Guidelines
Sport NZ - 7 rules for Playing it Safe at Level 2
---
Advice for Clubs & Coaches
To ​​​​​keep everyone safe at Alert Level 1 follow these Golden Rules:
Display the following signage prominently on your courts, club rooms, entrances, noticeboards:
QR code tracer poster. We recommend you use the Ministry of Health NZ COVID Tracer QR code poster – instructions to get a poster for your club can be found here. There is still merit in clubs maintaining a contact tracing process until you have successfully transitioned to the Ministry of Health COVID Tracer process by having posters on display. At that point, the onus shifts from the club and to the individual. Use R911288 for the LocationBIC code in the template spreadsheet.
Keep things clean or closed. Ensure a regular cleaning schedule is in place for shared areas such as changing rooms, toilets, clubrooms, bar tables, door handles.
Manage larger events well – for example, at club fundraisers and prize-givings ensure all attendees register to attend (or, as an organiser, keep a good register) especially if you can't guarantee that people will have checked in using the QR code tracer displayed at your venue.
As with all the other Alert Levels (except Level 4), each club, centre and coaching programme operates independently and will weigh up risks alongside their ability to meet government requirements. Each club, centre and coaching programme will make their own decision as to what services and facilities they provide. If you are reading this as a club member or player, please be respectful of this and avoid putting pressure on your nearest club, centre or coach to provide services that they are not comfortable to offer
---
Tim Shannahan (tim@tenniscentral.co.nz 021 126 3322) is available to assist clubs in the development of their safety plan and/or review before it is finalised.
Please continue to check the Tennis NZ COVID-19 web page for further updates as they become available.
These restrictions and recommendations will remain in place until further notice.
---
Advice for Coaches:
The COVID-19 wage subsidy is being extended and applications open 10 June. For full details and to find out if you and your coaching team are eligible to apply for the subsidy extension head to WAGE SUBSIDY EXTENSION​​​​​​
---
Sport NZ Community Resilience Fund:
Applications for this fund close on 19 June, but may close earlier if all funds have already been distributed. At this time only one tennis club from Kapi Mana and Wellington has submitted an application, with that club successful in receiving the amount requested. Initially, it was suggested cash reserves would be viewed negatively and be a barrier to funding. Sport NZ has subsequently identified that they should not be penalising clubs that have good financial processes and have built up cash reserves. However, it will be necessary for the application to specify what the cash reserves are intended to be used for in the future (e.g. future court surface replacements) and therefore can not be used to pay current expenses.
As a result, the key item for eligibility has become a loss of revenue. If revenue that would have been received has now not been received due to COVID-19, then a club is eligible to apply. Examples of lost revenue may be entry fees and hire fees.
The fund is still seeking to fund actual expenses that have or will be incurred from 23 March to 30 June 2020, up to $1,000.
If you have any questions, please contact either Tim Shannahan or Sport Wellington at your convenience. Please also view the Sport Wellington website
---
Game Trust Funding
Many funders are facing the same struggles as all other businesses in New Zealand. As a result, a number of funders have already indicated they will not be awarding any funding until further notice. There is reason to expect all funders will adopt this position over the coming weeks. With pubs and clubs closed, the machines that generate the funds that are ordinarily distributed are no longer being used and therefore funders have nothing to distribute. Keep this in mind if intending to continue to submit funding applications at this time.
---
General advice
Bookmark Tennis NZ's Covid-19 web page for up-to-date notifications.
Follow Tennis NZ's Facebook page for up to date notifications, fun stories and videos.
Look after your wellbeing and mental health. Share this with your membership and coaches too.
Regional updates will also be available on our WEBSITE
Further public information is available on the NZ COVID-19 WEBSITE
with a dedicated Healthline COVID-19 number – 0800 358 5453.

For more information in Tennis Central please contact:
Tim Shannahan, CEO Tennis Central Region
tim@tenniscentral.co.nz