Tournaments
Start thinking about your teams....
Please select here for entry form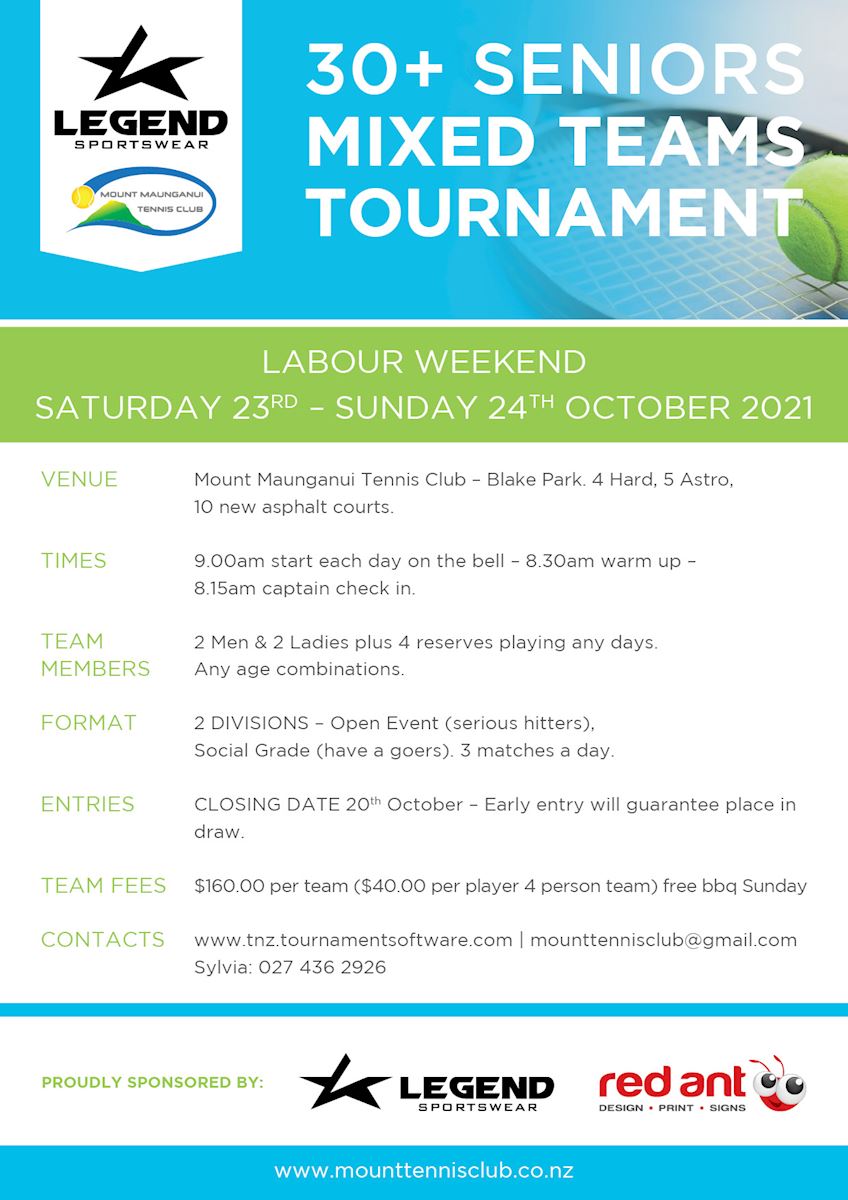 Entries are now being taken for the NEW WORLD MOUNT FAMILY CHALLENGE - 18 APRIL
Great fun for the whole family, grab your Grannie, Aunt, Uncle, Wife, Husband or Partner (pretty much anything goes!!)
Nothing more healthy than a bit of family rivalry on the tennis court!!
Select here for entry form
_______________________________________________________________________________________________
MOUNT MAUNGANUI BEACH OPEN Tennis Tournament - 27th, 28th and 29th of December
Work off that Xmas pud, grab you family, friends and visitors and have some fun!!
Please select here for entry form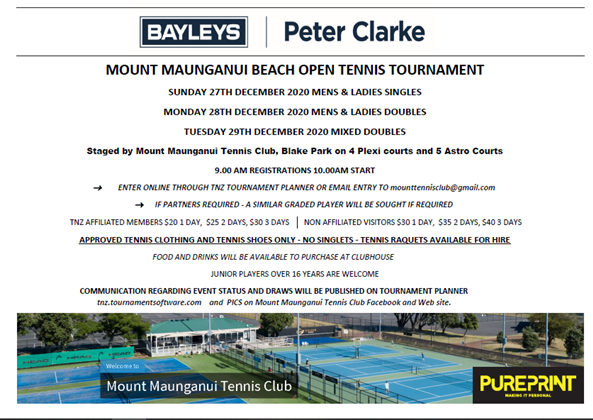 SCOTT STEVEN SINGLES TOURNAMENT
SUNDAY 13th of DEC 2020
For online entries please select here
For all enquiries and manual entries please contact Stefanie Steven. Email: stefanie.steven12@gmail.com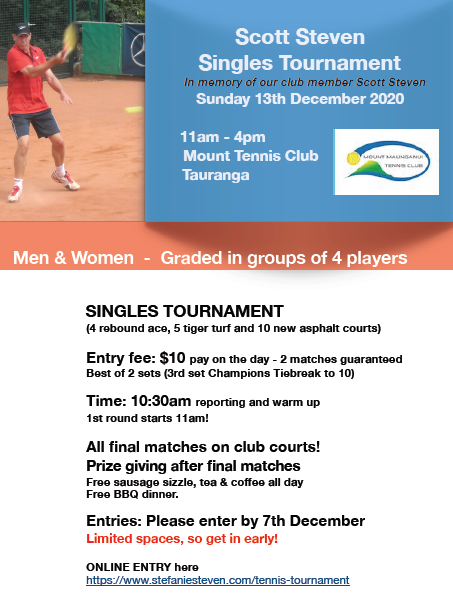 MOUNT MAUNGANUI MIXED TEAMS EVENT
Saturday 24th and Sunday 25th October 2020 (Labour weekend)
Teams are made up of 2 men and 2 women and reserves are welcome
3 divisions – Open, Over 60s, and Social
Enquiries to sylviawilmshurst@xtra.co.nz or ph 0274362926
Please select here for entry form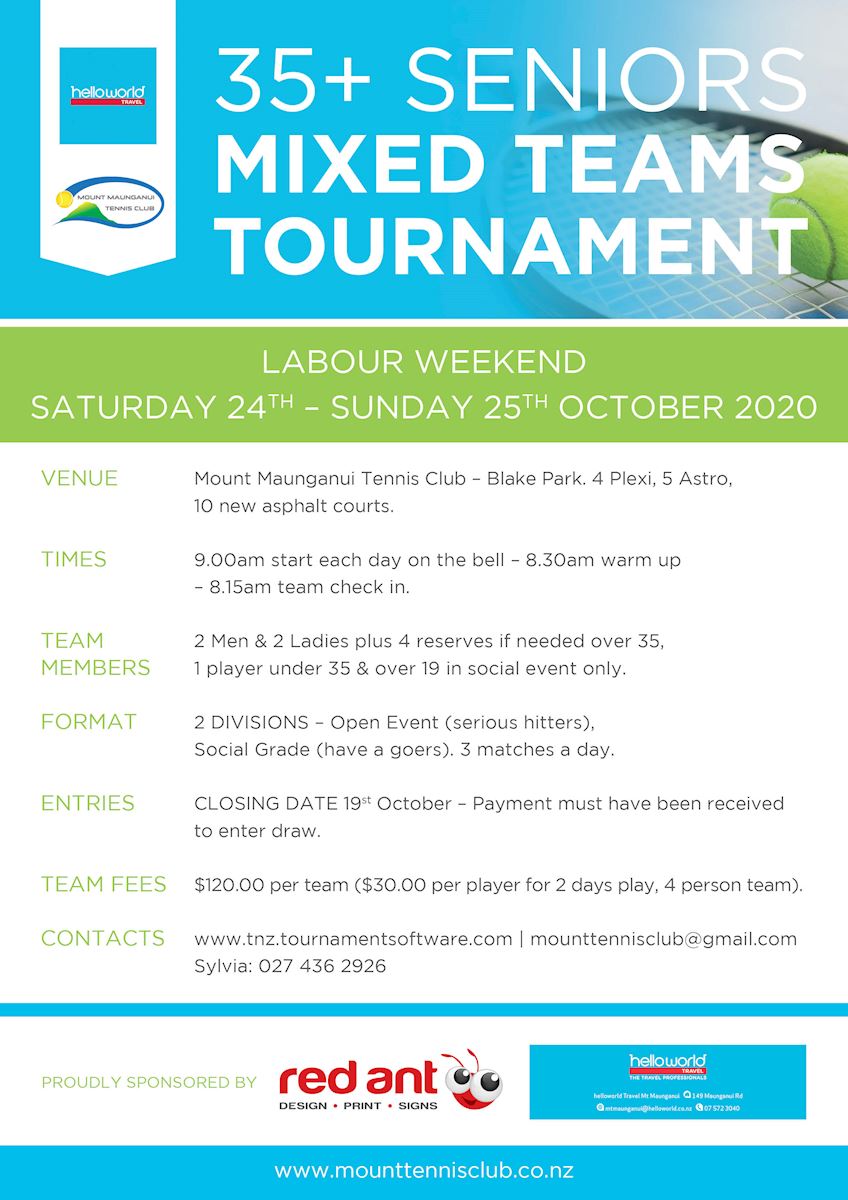 ---
Murray Rosebowl 2020
This is one of our premier events for the club and due to the handicap format all have the chance to win. This competition is a mixed handicap doubles played with table tennis scoring. Yes, it does challenge the brain!! Great fun and a fabulous day of tennis and camaraderie.
This tournament is always played in great spirit, with a number of surprise combinations creating upsets. This year we have decided to make things a wee bit more challenging by making some matches battle it out with wooden rackets!! (you never know this may improve your game!!) Also the dress code for the day is Retro white, check out the noticeboard or Google for ideas.
This years event is on Saturday 18th October and all you need to do is put your name forward. All names go into a hat and partners are drawn. Our Senior Convenor then handicaps each partnership on ability level. These handicaps are non-negotiable and the club captain's decision is final.
Where: Mount Maunganui Tennis Club
When: 12.30pm(sharp), Saturday 18 October 2020
Eligibility: Financial senior club members of all ability
Cost: $5 per player
What to Bring: A salad for the celebrations after, wooden racket if you have one
Format:
– Mixed Doubles
– Drawn Partners
– Handicapped draw (so anyone can win !)
– Table tennis scoring ie first to 31 points
– All players will have at least 3 games
Entries: Are not yet being taken.
---
New World Mount Maunganui Family Challenge - 26th July, rain off day 02 August.
Great fun, family time and fantastic prizes!! Enter now!
Please select here for entry form
---
Tennis Western BOP Junior Residentials
Sunday 5th of April 20020 - Cancelled due to Covid-19
Please select here for tournament details:
---
Tennis Western BOP Open Singles Residentials
Saturday 04th April 2020 - Cancelled due to Covid-19
For tournament details please select here
---
Senior Club Championships 2020
15th Feb 2020 – Mixed Doubles
7th March 2020 – Doubles
14th March 2020 – Singles
Club Champs are hugely popular so watch out for an email from us seeking entries closer the time and make sure you get yours in early.
---