COVID-19
Please visit Tennis NZ's Covid-19 page for further updates when available
Tennis Central's position on the current Coronavirus (COVID-19) outbreak situation continues to reflect the positions advocated by the Ministry of Health, Sport NZ and Tennis NZ.
---
Update: 3:11pm, 8 September 2021
Current Situation - Alert Level 2 for all parts of New Zealand outside Auckland.
The Wellington Renouf Tennis Centre is open.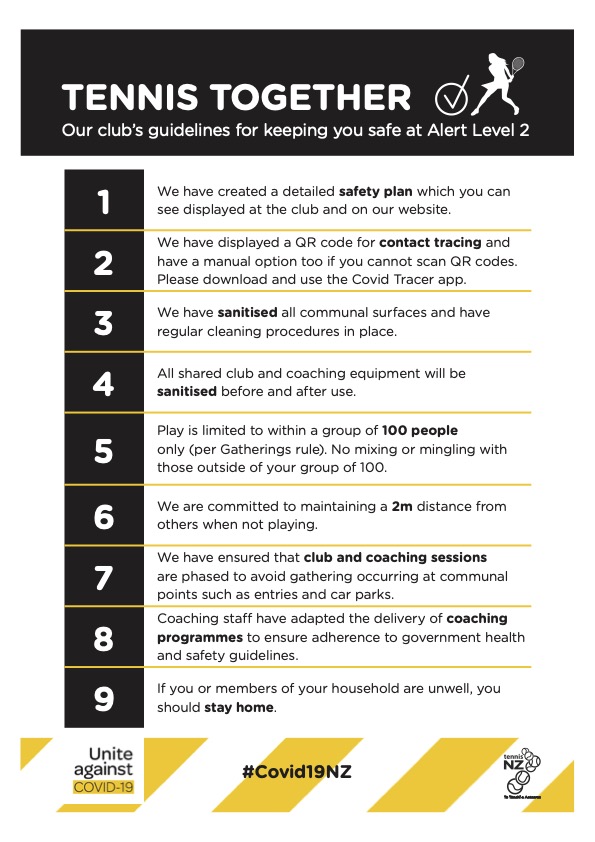 ---
PRINT COVID RESOURCES FOR YOUR CLUB
---
· Wear face masks at all times except when actually playing.
· Scan in using the COVID tracer app upon arrival
· Remain 2 metres apart from others at all times, except when actually playing
· Sanitise hands upon arrival and at departure
· 'Play and Go', unless using services at the PlanitPro shop or MatchPint bar
· No spectators
· Do not use changing rooms, including showers, instead changing off-site. Toilets can be used.
· Do not touch equipment belonging to other participants. Let those playing on other courts retrieve their own tennis balls if they come onto your court and vice versa.
We ask for your co-operation in complying with whatever rules are in place at all times.
Please continue to check the Tennis NZ COVID-19 web page for further updates as they become available.
These restrictions and recommendations will remain in place until further notice.
Keep well and be safe.
For more information in Tennis Central please contact:
Tim Shannahan, CEO Tennis Central Region
tim@tenniscentral.co.nz
---
Tennis Central use the Ministry of Health COVID Tracer process.
---
General advice
Bookmark Tennis NZ's Covid-19 web page for up-to-date notifications.
Follow Tennis NZ's Facebook page for up to date notifications, fun stories and videos.
Look after your wellbeing and mental health. Share this with your membership and coaches too.
Regional updates will also be available on our WEBSITE
Further public information is available on the NZ COVID-19 WEBSITE
with a dedicated Healthline COVID-19 number – 0800 358 5453
---
Renouf Tennis Centre