Competition
Prizegiving 2012
Sun, 06 May 2012 00:00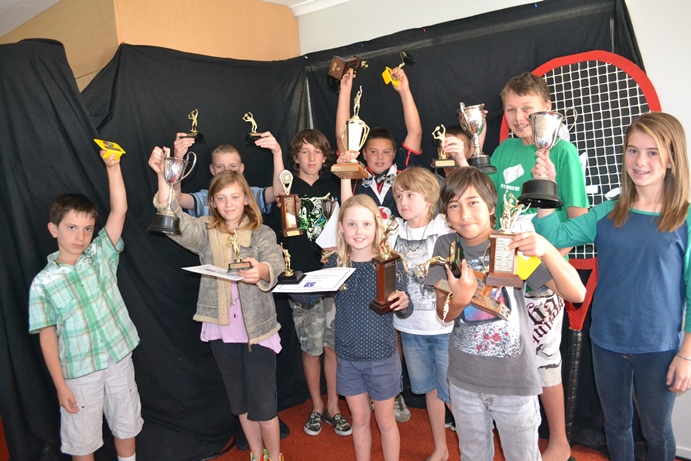 CONGRATULATIONS to all of our prize recipients for the 2011-2012 season. Below is a list of all recipients and photos of our prize winners who attended. Prize Giving 2012 was held on Sunday 6th May.
We would like to extend a special Congratulations to Isobel Baker who was awarded with a Gold Service Badge from Tennis Auckland for her outstanding 25 years of service to our club.






Well done Isobel and thank you for all of your hard work!
SENIORS
Sonny Adams Interclub Trophy: Josef Hardenbol
Sonny Adams Interclub Trophy: Audrey Willey
Sportsmanship Senior: Suzanne Florian
Sportsmanship Intermediate: Jadin Johnston

Club Championship Trophies
Mens Singles Winner: Tim Tutu
Mens Singles Runner-up: Josef Hardenbol
Mens Doubles Winners: Jacob Molotii & Telo Tufou
Mens Doubles Runners-up: Josef Hardenbol & Jadin Johnston
Ladies Singles Winner: Suzanne Florian
Ladies Singles Runner-up: Deirdre Harding
Ladies Doubles Winners: Alesi Molotii & Linda Zhao
Ladies Doubles Runners-up: Donella Matthews & Suzanne Florian
Combines Doubles Winners: Beryl Devery & Daniel Baker
Combines Doubles Runners-up: Nicole Methven & Ryan Pringle
Intermediate Boys Winner: Jadin Johnston
Intermediate Boys Runner-up: Josef Hardenbol
Intermediate Girls Winner: Alesi Molotii
Intermediate Girls Runner-up: Shayal Singh
Club Championship Plate Rounds
Mens Singles Winner: Chris Merlini
Mens Singles Runner-up: Gordon Glas
Mens Doubles Winners: Tim Tutu & Chris Merlini
Mens Doubles Runners-up: Gordon Glas & George Matthews
Ladies Doubles Winners: Deirdre Harding & Christine Lovrich
Ladies Doubles Runners-up: Nicole Upham & Raewyn Michaels
Club Handicap Competition Trophies
Mens Handicap Singles Winner: James Hughes
Mens Handicap Singles Runner-up: George Matthews
Mens Handicap Doubles Winners: Tim Tutu & Greg Upham
Mens Handicap Doubles Runners-up: Chris Merlini & Ken Tofa
Ladies Handicap Singles Winner: Donella Matthews
Ladies Handicap Singles Runner-up: Heidi Hughes
Ladies Handicap Doubles Winners: Heidi Hughes & Beryl Devery
Ladies Handicap Doubles Runners-up: Karyn Epskamp & Deirdre Harding
Handicap Combines Winners: Jadin Johnston & Nicole Upham
Handicap Combines Runners-up: Gordon Glas & Deirdre Harding
Club Handicap Plate Rounds
Mens Handicap Singles Winner: Anil Singh
Mens Handicap Singles Runner-up: Chris Merlini
Mens Handicap Doubles Winners: James Hughes & Jadin Johnston
Mens Handicap Doubles Runners-up: Josef Hardenbol & George Matthews
Ladies Handicap Doubles Winners: Suzanne Florian & Maxine Tipa
Ladies Handicap Doubles Runners-up: Fiona Kemp & Christine Lovrich
Handicap Combines Winners: Chris Merlini & Raewyn Michaels
Handicap Combines Runners-up: Josef Hardenbol & Christine Lovrich
JUNIORS
Beginner Girls Winner: Poppy Magnus
Beginner Girls Runner-up: Hannah Lovrich
Beginner Boys Winner: Bailey Gaughan
Beginner Boys Runner-up: Luke Lovrich
11 Year Boys Singles Winner: T.J. Devery
11 Year Boys Singles Runner-up: Junior Tutu
11 Year Boys Doubles Winners: T.J. Devery & Ethan Gordon-Stables
11 Year Boys Doubles Runners-up: Junior Tutu & Jack Colthart
13 Year Girls Singles Winner: Megan Pringle
13 Year Girls Singles Runner-up: Tianna Creevey
13 Year Boys Singles Winner: Ben Bennett
13 Year Boys Singles Runner-up: Nicholas Epskamp
13 Year Boys Doubles Winners: Ben Bennett & Logan Kemp
13 Year Boys Doubles Runners-up: T.J. Devery & Junior Tutu
15 Year Girls Singles Winner: Shayal Singh
15 Year Girls Singles Runner-up: Maddison Matthews
15 Year Boys Singles Winner: Kent Upham
15 Year Boys Singles Runner-up: Logan Kemp
15 Year Girls Doubles Winners: Y. H.& Rubee-Leigh Poata
15 Year Girls Doubles Runners-up: Paige Topia & Maddison Matthews
15 Year Boys Doubles Winners: Kent Upham & Cameron Banks
15 Year Boys Doubles Runners-up: Callum Kemp & Ben Epskamp
Most Improved Beginner Girl: Eva Colthart
Most Improved Beginner Boy: Jack Colthart
Most Improved Junior Girl: Shayal Singh
Most Improved Junior Boy: Logan Kemp
Best Interclub Performance Girl: Megan Pringle
Best Interclub Performance Boy: Ethan Gordon-Stables
General Excellence Girl: Paige Topia
General Excellence Boy: Jacob Voordouw
MacDonald Shield: James Hughes