Club
NEW Court Lights
Wed, 12 Mar 2014 00:00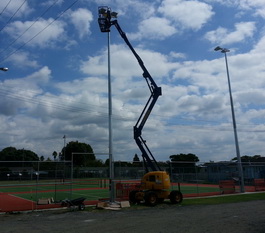 Many people are aware that we are in the process of a new court lighting project.
Thank you to ASB Community Trust who have granted $50,000 and Infinity Trust who have grant $8,900 to complete this project.
A big Thank You to Donna Johnston who has been working hard drawing up plans, completing consent application forms for the Council and liaising with Team Sports. Her knowledge and help is invaluable. The application has now been made to the council and we are just waiting on approval. We hope to hav this before Christmas or early January. We will then book in to have our old lights removed and new lights installed, which will cover all 5 courts.
We have a large turn out on Tuesday nights. Due to our lack of Sunday attendance we are considering cancelling that and having a second night tennis session on Thursdays. Watch this space........