Chairman's Report 2020
Wed, 01 Jul 2020 00:00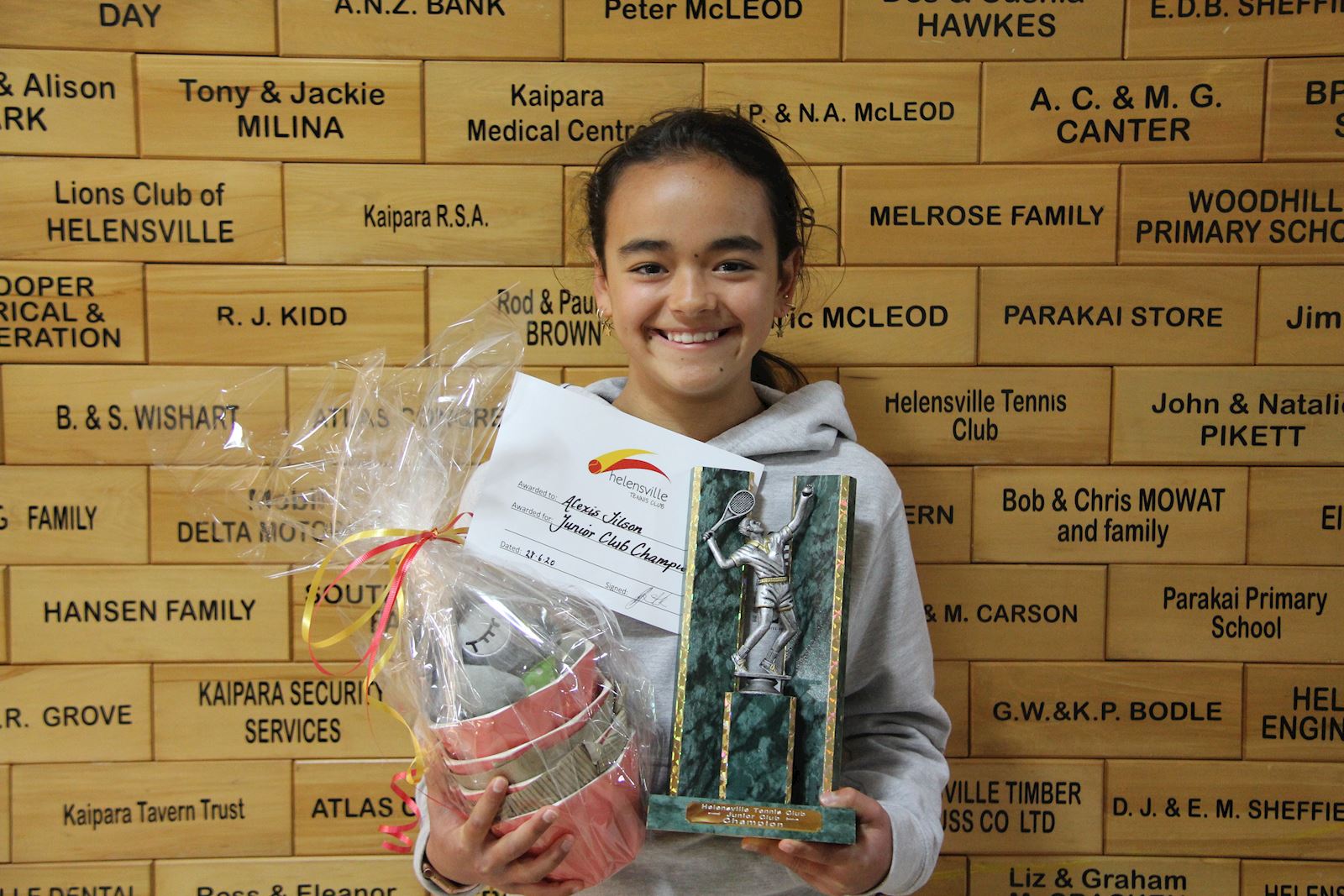 It is with pleasure I present this report for the Helensville Tennis Club for the year ending 31 May 2020.
We had the major interruption this year of Covid-19, forcing all competition and friendly play to cease for several weeks. After the unprecedented full closure of the courts for this period everyone was chomping at the bit to get back out swinging rackets which ensured an exciting club champ finals day on the 7th June.
Committee
Our current committee included Mark Dennis, Chris Hughes, Jenny Coles as Treasurer, Dion Tilson as Club Captain, me in the chair and we were supported by our administrator Gaylene Ashton. Our committee have enjoyed their time being actively involved in the Helensville Tennis Club and we would encourage and support anyone who is considering standing for the next term.
Throughout the year our committee attended the ANCAD seminar "Legal responsibilities for governance of boards"
and a Club Spark webinar and onsite training which was excellent in supporting our role on the committee.
Tennis Events
Tennis events this season included the club champs which concluded in June with some well fought battles.
Mili Sipa co-ordinated the Lou Keefe tournament with the help of Gaylene, with 13 senior teams and 4 junior teams entered. It saw another great turnout and fundraising drive.
Our interclub teams this year included 4 junior teams and 3 senior teams. Some fantastic results with our junior under 15 girls and boys and under 18 girls' teams all placing first in their grades, and the men's senior team coming in third.
The club ladder has been updated and is available here for you to view, so remember to keep challenging other players to try and reach the top spot.
Other Events
Many people attended the open day this year - the courts were packed the whole day. 25 info packs were given out, with at least nine new members as a direct result of the open day. We joined with Helensville Athletics, Waka Ama and the Lions Club which once again proved a success.
The Tough Guy and Gal challenge have moved their event from 23-30 June to 15-20 September.
Coaching
Julia Newton (Julz), who has Wimbledon roots, was appointed as our coach by Kiwi Tennis with a great response from members. Unfortunately for us Julz has been appointed as Head Coach at the Campbells Bay Tennis Club.
Frank Zhao is taking her place at our club and has been working with us during term 2.
We provided free group coaching sessions on senior club night which proved a winner with several members taking up the opportunity to improve their skills each week.
Finn Hughes and Bridget Orsler have completed the Coaching Assistant course and assisted Julz on a voluntary basis since the beginning of term 4.
Ashleigh Edlington has also been assisting and would like to complete the course at some point this year.
Communication
Our administrator has maintained our website and social media presence, as well as continuing great communications to the members on weekly and upcoming events.
The club captain has successfully implemented our Helensville Tennis Facebook messenger group, and has also setup a Juniors messenger group to help organise games between members. We encourage them to join up and be proactive to get the most out of it.
Membership
Our membership currently stands at 110 members, with 50 Senior and 60 Junior members.
Sponsorship
Sponsorship stands at six grandstand sponsors and two east stand sponsors.
I would like to take this opportunity to thank our -
Grandstand Sponsors
Barfoot & Thompson (Clyde Glasson)
Harcourts The Difference
Mitre 10 Helensville
Parakai Springs
Rothbury Insurance Brokers
Trueform Spa Pools
East Stand Sponsors
Parakai Swim School
Physio Flex
I would like to acknowledge all our sponsors and thank them for their continued support and cannot express the importance they play ensuring our club continues strongly into the future.
Fundraising
This year fundraisers included our Annual Trivial Pursuit Evening and Christmas Raffle which were both well received, as well as the beautifully cooked weekly barbeque (thanks Jenny). Members of the committee again worked hard securing prizes and goods for our Trivial Pursuit evening and raffles. This is an area we would like members and supporters to assist with in the future if you have skills or access to goods and services that we would be able to use please let us know.
Grants
We have received grants this year for:
Junior Club night and tennis coaching term 4 $3,000 from Grassroots Trust.
Terms 1-4 junior coaching, tennis in schools term 3, coaching assistant training and juniors club night terms1 & 4 $24,977 from KiwiSport.
Declined applications included:
Juniors coaching and club nights terms 1 & 4, admin contractor fees $25,000 NZCT
Juniors coaching and club night term 1 $5,000 Grassroots Trust
Windbreak $5,000 NZ Racing Board
As I'm sure you will appreciate it will be a challenging year for grants and sponsorship, we welcome any feedback from our members and supporters on how the club may be able to generate additional funding to support our coaching and tennis programmes throughout the year.
Improvements
During the 2019/20 season our new windbreak was installed, helping to mitigate the sometimes-windy conditions we can experience on court.
After trying to secure funding for a defibrillator, we approached the Lions Club who promptly obliged. This is a very important piece of kit and we are thankful to have it sitting on our clubroom wall.
We are looking to implement a new access and management system called Club Spark. It allows for online bookings, payments, and keyless access to the courts. This will allow for casual players to use our facilities as well as creating an additional income stream for the club. Club Spark also includes a website and a fully integrated backend member management system to streamline systems for the administrator and committee.
I would like to thank your Committee members, Chris, Jenny, Mark, Dion, and Gaylene who continued to give up their valuable time to make our club a success.
Can I please ask you to put your hands together in appreciation for your committee and administrator.
I wish the new committee and club members all the best for the upcoming season.
Josh Grimstock
Chairman