Rachel Clark: 021 503 320
www.advantagetennis.co.nz
St. Heliers Tennis Club has an active coaching programme for Adults and Juniors of all ages and abilities, run by Advantage Tennis. Our resident coach Rachel Clark is very experienced in all types of coaching, and is supported by a great team of coaches, bringing a combination of fun,learning and experience to the courts: Brittany Buchanan, Angus Campbell, Matthew Edwards, Mike Moran and junior assistants.
our popular adult TENNIS FIT
ADULT beginner and refresher sessions every WEDNESDAY NIGHT
MUMS CLUB – Mondays and Thursdays 9:30-10:30am
year round popular JUNIOR GROUP SESSIONS
TODDLER TENNIS – new in 2019. tots2tennis
TEACHER ONLY DAY PROGRAMMES FOR LOCAL SCHOOLS
juniors matchplay/ interclub/ squads
individual or shared lessons
proshop for restring service/ grips etc
all and any tennis enquiries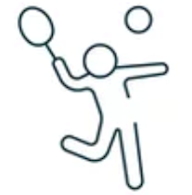 WEEKLY COACHING TIMETABLE:
TENNIS FIT
Monday 6-7:30pm
Thursday 6-7:30pm
Saturday 7:45-9:15am
These are our most popular fun, active sessions, with an emphasis on point-style drills. Designed for intermediate through to advanced, you will get your heart rate up and hit alot of balls! MUST BOOK IN WITH RACHEL AS these fill up quickly, and we have lots of regulars! 021503320 to enquire.
SIGN UP - MONDAY & THURSDAY TENNIS FIT October/November/December
SIGN UP - SATURDAY TENNIS FIT October/November/December
---
STARTER / REFRESHERS
every Wednesday 6-7pm
SIGN UP HERE - STARTER/REFRESHERS WEDNESDAYS - OCT/NOV/DEC
Aimed at teaching basics and getting your confidence up!
If you are a beginner, or just haven't played for a long time, this session is for you. For adults keen to learn the game, we run every Wednesday from 6-7pm.
We will look at:
understanding basics of all strokes
reading the ball, developing strokes in rally and game situations
court positioning for singles and doubles, scoring
$100 for 6 week concession.
$20 casual
(cash payable on the night or by internet banking)
Rackets available for use if needed
MUMS CLUB
every Thursday 9:30-10:30am (all year)
Casual mix of coaching and play. All levels. Aimed at mums, little ones welcome! We do have a "minder" to watch them, so mum can have some free time and get some exercise on court! Else strollers etc welcome. $20 per session.(or a concession card $120 for 8 sessions = $15 per session). $10 extra for childminding if needed.
---
CLUB NIGHT
Tuesday 6pm onwards
6-7pm is run by one of the coaches, doing drills and giving some pointers. Then a committee member will organise some social matches using the board system. A great way for new or prospective members to come along and get a feel for the club ..
---
INDIVIDUAL OR GROUP LESSONS:
Head coaches : 1/2 hr $40…..1 hr $80
Associates : 1/2 hr $30…..1 hr $60
contact us to talk about times available

Rachel Clark: 021 503 320
www.advantagetennis.co.nz