Club
Court resurfacing set to commence!
Fri, 07 Jan 2022 00:00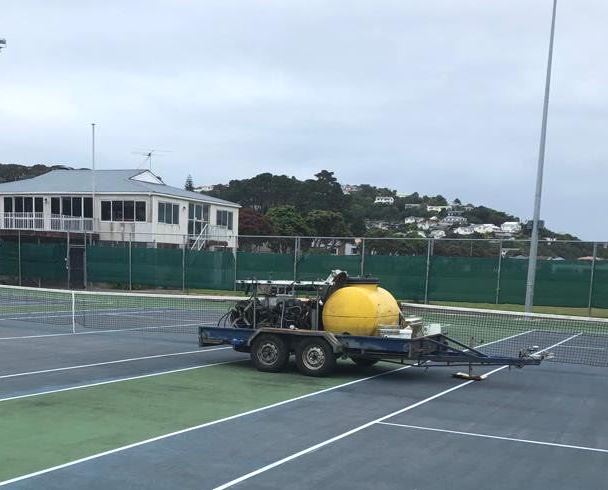 Happy New Year
Court resurfacing work is set to commence!
As previously communicated we have an exciting court resurfacing project set to get underway.
We have been waiting for a window of opportunity with the contractors to commence work on the court resurfacing project and received news yesterday that they were able to start the preparation today (Friday 7th Jan)
This means at least two courts will be out of action whilst the contractors water blast and prep the courts.
Courts 4&5 are currently unavailable to book however the contractors will move along the courts as required so members will be able to play at the opposite ends for the time being.
All going well not too much disruption should take place however please be flexible and aware you may need to be moved if required.
When the painting commences next week (laying of the new surface) the courts will need to be closed off completely and we will update you as work progresses.
Please book courts online as per normal (you will however start to see courts blocked out for maintenance)
Thanks again.
Sould you have any quesations please dont hesitate to reach out.
Miramar Tennis Club
Covid 19 - CVC Mandate
As a further reminder, the club is now a CVC mandated club - this means by booking a court or using the clubroom facilities you are aware that you will need to show your CVC when requested.
We appreciate the members who took the time to give us feedback on the decision, and their thoughts on the best way forward. Upon further review, the following motion was raised and passed at a committee meeting on Monday 20 December:
Resolution: That, in accordance with the move to the Government's COVID-19 protection framework, Miramar Tennis Club requires vaccination passes for the whole facility. Members and visitors to the club will require proof of COVID-19 vaccine to use the courts, and/or the club room facilities.
We acknowledge the possible impact this could have on some club members. Should you have any questions about this, please don't hesitate to reach out to a committee member to discuss.
The committee will review the Covid policy at each committee meeting and at each change in the traffic light system.