Club
Tennis Season Begins
Sat, 26 Sep 2020 00:00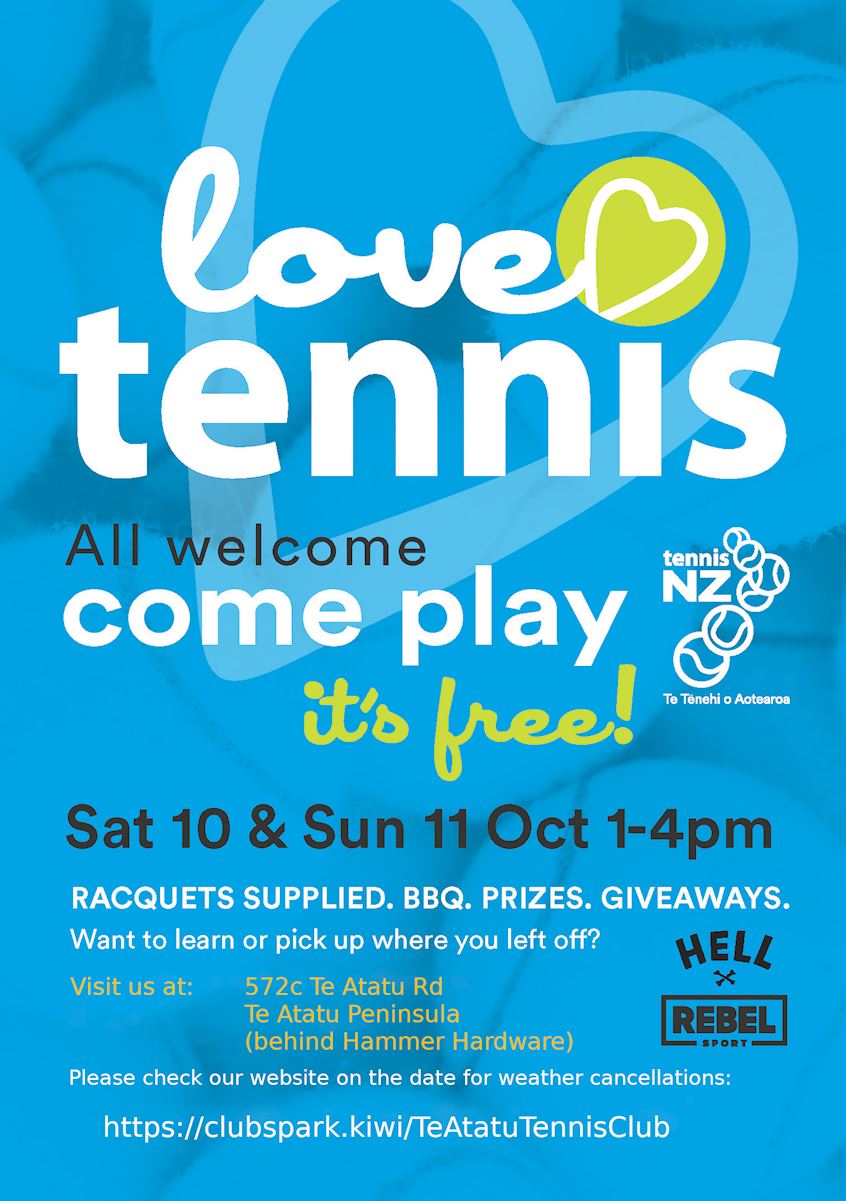 The tennis season has arrived! We are all so glad to be back on the court and being energetic and social again. There are a lot of fun events happening over the coming month that we are keen to let everyone know about:
Love Tennis
Love Tennis is coming to the Te Atatu Tennis Club on 10th and 11th October, 1pm - 4pm! If you haven't heard of Love Tennis before, it's like a huge open day, with some nice free giveaways, competitions, great activities and prizes (thanks to Tennis NZ and some fantastic sponsors like Hell Pizza and Rebel Sport). We will have heaps of things to do and would love to see you at our club on the day with your family and friends. Check out our poster below for more details.
Free Coaching
Free coaching for members is back! Daniel Baker and David Danielson will be running free group coaching drills from 6pm - 7pm on Tuesday nights. All members are welcome to drop in and join as many sessions as they like, to pick up a few new tricks on the court.
Professional Coaching
Anyone who is looking for a more personalised, targeted coaching session is encouraged to contact head coach Hugo Santos from Seed Tennis. They run many single and group coaching sessions throughout the week and can accommodate all skill levels.
Social Night Tennis - Start Time Changing
Daylight savings starts on Sunday 27th September. Due to the longer daylight hours, we will start our Tuesday and Thursday social nights a little later, from 7pm - 9pm. Just in case people don't see this notice in time, we will still be opening up at 6:30pm on Tuesday 29th Sep :)
Membership Renewal
Membership fees for 2020/2021 are due by the end of September - you can now easily sign up online at our website and pay via bank transfer. Due to the reduced social nights over the last year, we are also offering a 10% discount to those who are renewing their Full Senior Membership this year. If you have any questions at all, feel free to contact us through our website's Contact Us page or through our club's page on Facebook.
Hope we see you on the courts soon!
Te Atatu Tennis Club