Parent & Child Tournament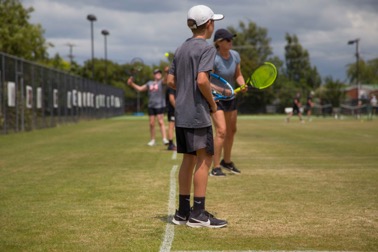 Date: Sun 4th Dec 2021, start 9am (all players to be present for 8.45am briefing.)
Martinborough Tennis Club, Cnr Regent & Oxford Street, Martinborough
Entries Open, via this link: https://forms.gle/yLDBFQijQ7a2rxeX6
Team Format: 1 child & 1 adult. The adult can be a parent, grandparent , guardian or extended family of the child in the 10 to 14 years and under grades.
For the Open grade there is no age limit of either parent or child, but the pairing needs to be immediate family (i.e a child and their parent or grandparent). Age grades are:
8 years & under
10 years & under
12 years & under
14 years & under
Open
The child or adult must be affiliated to a Wairarapa Tennis Club or School.
Entry Fee: $40.00 per team. Paid by bank deposit preferably prior to the day. In the evnt of a cancellation entry fees paid will be refunded les a $5 admin fee.
All teams are guaranteed at least three matches (weather permitting).
Match format: Doubles – First to 9 with tie break at 8 all.
WTA will supply HEAD ATP balls for grades 14yrs & under and Open grade.
WTA will supply HEAD low pressure green dot balls for grades 10yrs & under grade.
The draw will be issued on the day and results will not be entered into Configure.
Entries close: Wednesday 30th November 2022
Players to bring suitable clothing, footwear, a hat and sunscreen.
Food and Beverage available on-site
Cancellation: Players will be notified by email by 7.30am on Sunday 4th December if the tournament is cancelled due to bad weather and it will be posted onto the WTA Facebook page