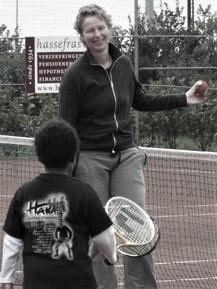 Renny Spruijtenburg
You will love your coaching sessions with Renny. Her passion for tennis is contagious and and one of her great pleasures is seeing how players of all ages and abilities enjoy themselves on the court. Renny was a tennis coach and physical education teacher in the Netherlands and Europe for over 25 years before she put down her roots here in Nelson in early 2019.
You are welcome to come to the club and join in for an introduction lesson, please give Renny a call first.
---
For term1-2020 the following sessions are lined up on Tuesdays starting from 4 february.
3.30- 4.30 5-6-7 year olds $70
4.30 - 5.30 8-9-10 year olds $70
5.30 - 6.30 Teens $ 70
For a private, duo or a group lesson with your friends send Renny an e-mail:
renny123@live.nl or phone: 022 395 6368 and she will find a day/time.
Available for adults, juniors, members and non-mebers.