2023 Club Championships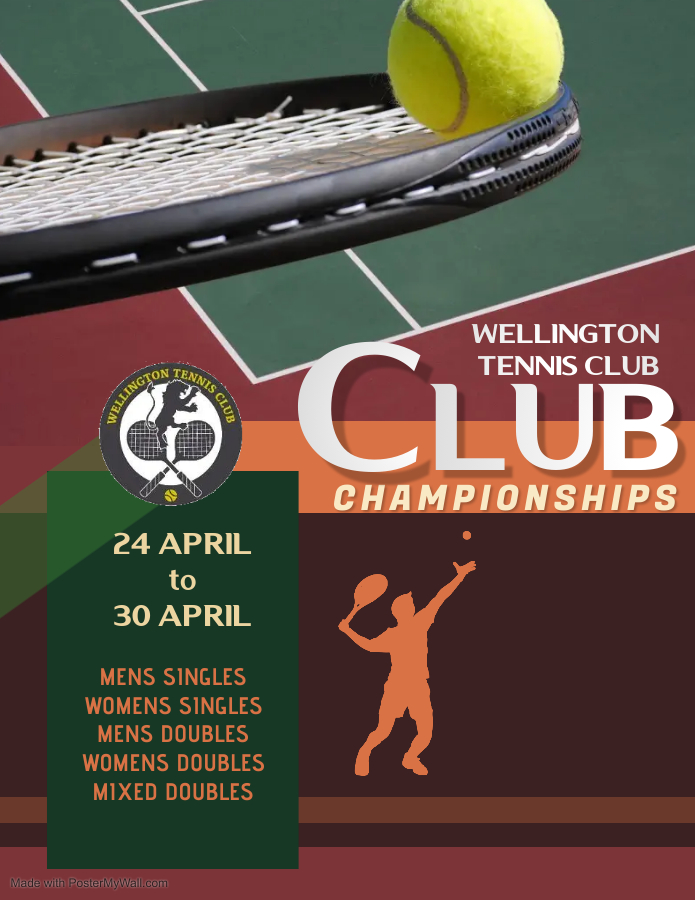 For the 2022 Club Championships we had over 50 competitors playing across the 5 draws and over 90 matches played making the Wellington Tennis Club Championships one of the biggest events on the Club Calendar.
The 2023 Club Championships will run from Monday 24th April to Sunday 30th April (weather dependent)
Matches on Monday 24th April to Friday 28th April will commence at 6:30pm (warm-up from 6:00pm).
Matches on Saturday 29th April will commence from 9:00am
Finals for all draws will be played Sunday 30th April.

Available Draws
Mens Singles
Womens Singles
Mens Doubles
Womens Doubles
Mixed Doubles

Tournament Playing Conditions
Each match will be 1 set, first to 9 games
If the scores are tied at 8-8, a standard tie breaker (first to 7 points) is played
Golden Point/Sudden Death points are played on the second deuce. The receiving player/team select the side the service will be made from (except for the mixed competitions)
For the Mixed Competitions, a male server will serve to the male receiver and a female server will serve to the female receiver.
Registration will open early April 2023 and is open to all senior members.
Draws will be published on the website once entries to all draws have closed.
---
2022 Wellington Tennis Club Championships

Mens Singles Champion
Womens Singles Champion
Mens Doubles Champions
Womens Doubles Champions
Mixed Doubles Champions
Charlie Hudson
Kyna Decruy
Charlie Hudson
&
Oscar Horsley
Clare Docherty
&
Naomi Burwell
Asoiva McKavaagh
&
Marty Simonlehner
Runners Up
Oscar Horsley
Naomi Burwell
Angus Doddridge
&
David Buckrell
Asoiva McKavanagh
&
Malia Flasza
Ayoung Joo
&
Oscar Horsley
---