2023 Vets & Masters Championships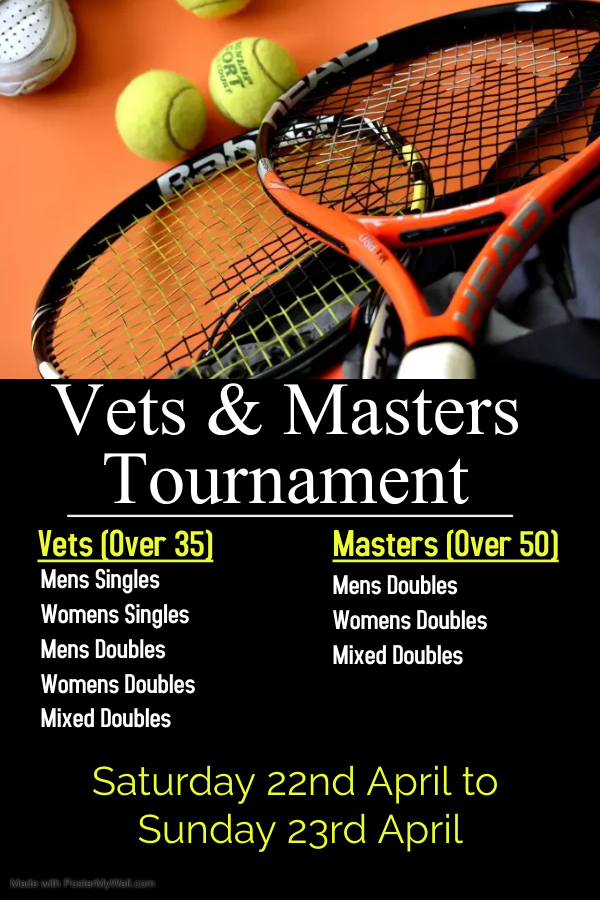 Tentative Schedule of Play:
Saturday 22nd April 2023
Mens Vets Doubles
Womens Vets Doubles
Mixed Vets Doubles
Sunday 23rd April 2023
Mens Masters Doubles
Womens Masters Doubles
Mixed Masters Doubles
Mens Vets Singles
Womens Vets Singles
Tournament Playing Conditions
Each match will be 1 set, first to 9 games
If the scores are tied at 8-8, a standard tie breaker (first to 7 points) is played
Golden Point/Sudden Death points are played on the second deuce. The receiving player/team select the side the service will be made from (except for the mixed competitions)
For the Mixed Competitions, a male server will serve to the male receiver and a female server will
Registration will open late March 2023 and is open to members over the age of 35 for Vets and 50 for Masters Competitions.
Draws will be published on the website once entries to all draws have closed.
---
2022 WTC Vets (Over 35) Champions

Mens Singles
Womens Singles
Mens Doubles
Womens Doubles
Mixed Doubles
Shared:
Maurice Fearon
&
Juan Canales
Naomi Burwell
Peter Scott
&
Andy Taylor
Naomi Burwell
&
Karen Donnelly
Naomi Burwell
&
Juan Canales
Runners Up
Malia Flasza
Marty Simonlehner
&
Juan Canales
Asoiva McKavanagh
&
Tony Tziakis
---
WTC Masters (over 50) Championship

Mens Doubles
Womens Doubles
Mixed Doubles
Craig Sengelow
&
Chris Patete
Jude Varcoe
&
Phillipa Batey
Karen Donnelly
&
Craig Sengelow
Runners Up
Mike Smith
&
Maurice Fearon
Wendy Simpson
&
Toshiko Charmers
Malia Flasza
&
Chris Adams