Club
Premier 1 v Avalon
Sun, 27 Feb 2022 00:00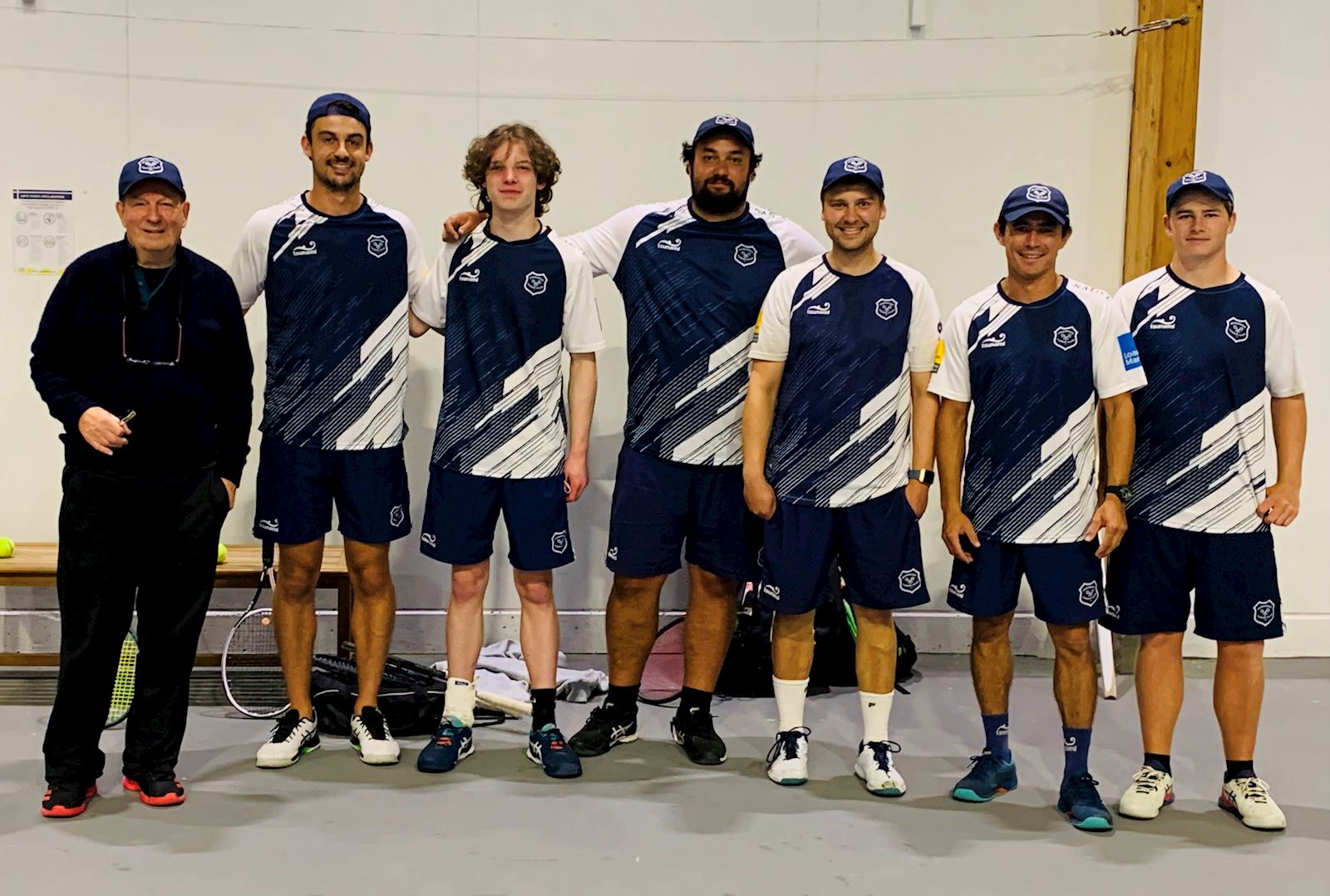 Miramar Prem 1 Men topple previously unbeaten Avalon 5-1!!
In what was a hugely entertaining and closely fought tie​,​ Miramar came out on top in what was some of the highest quality tennis the competition has seen​ this season​.
​#2 ​Kyle Butters ​got the team ​​started as he sprinted out of the blocks racing to a 6-0 first set win in a blink of an eye. The second set however was a much tighter affair as the quality of his opponent​, ​none other than Marc Paulik started to dig in and get his silky one handed ​back hand ​firing. ​​Marc ran out to an early second set lead but Kyle was able to break back and force it to a tiebreak.
The tiebreak was a tit-for-tat affair until Kyle was able get on the front foot as the aggressor and put away a crucial overhead then nail a backhand down the line to set up a put away volley to close the set and match!
Over ​on court one things were only just heating up​ in the top seeded showdown. On one side was Avalon's veteran pro, Victor Romer​o who has been as high as the top 400 on the ATP tour and has represented Mexico in the Davis Cup. On Miramar's side was the 17 year old underdog and Whangarei native Dan Hammond.
Victor settled much quicker than his younger opponent and was able to break twice and ease to the first set (6/2). Dan was showing promise near the end of the first stanza and carried that through into the second where he was able to break his opponent and then hold on to claim the second set (6/4).
​In the deciding set things really started to get close with every point being contested with long demanding rallies. After nearly 3 hours and down 5-4 Dan was asked to break Victors serve to level the match and stay in the hunt.
Playing well above his years and using a wide variety of shots Dan was able to break and then force it to match deciding tiebreak.
A third set tiebreak was only fitting to split this epic encounter and the lads didn't disappoint. Both coming up with huge shots to inch closer and closer to victory.
Neither player was able to wriggle free until Dan siezed an opportunity and was presented with a match point. As top level players do they seem to come up with unbelievable shots that require huge skill and bravery to nullify the attack and give themselves a lifeline for survival. Victor is absolutely a top level player and relied on all his experience as a former touring pro to come up with a tricky lob and a driving forehand volley to even the tiebreak and stay in the match.
With those critical blows Victor asked Dan to do the almost impossible and win two points in a row to win it. As with many champions they don't give you a second chance and with that Victor found a way to nose ahead and earn a match point for himself.
Victor did not let that one slip by and after yet another long and demanding rally was able to claim victory and send the spectators to a huge round of applause for both players.
So after 3 hours of play the tie was only 1 all!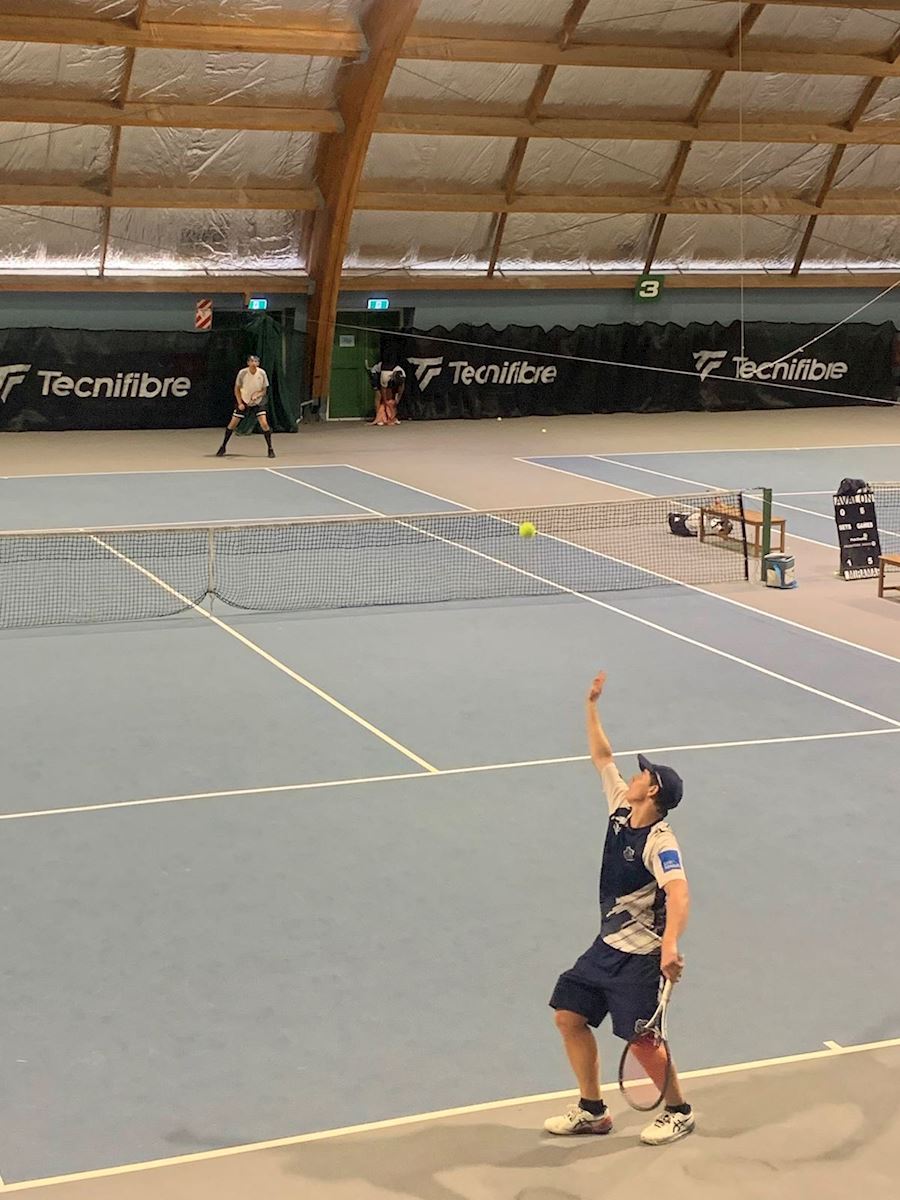 The #3 tie was on next and was a scrappy affair between Miramar's big serving Jaden Grinter and Avalon's young gun Jonty Giessen (15).
Jaden found himself in a bit of a hole but was able to stay in touch and use all his arsenal of slice, spin and speed to force a tiebreak. As big servers do he had the advantage in the tiebreak and was able to wriggle free of his hard working junior opponent and sealed the first set with some booming serves.
With the set advantage Jaden was able to apply the pressure and ran out to a 6/2 second set to win the match and give MTC a 2-1 lead.
#4 Aigars Mercs was up next against Sam Baird who has also had a fine season of results. Aigars was fired up going into the match and was able to break early and lead out to claim the first set 6/2. With the tie still in the balance Sam wasn't going to let Aigars have it easy and claimed a crucial mid set break and then close it out 6/3 to force a deciding third set.
Both men were playing very well but it was Miramar's long time campaigner and 2021 player of the year who held his nerve and win the big points when it mattered winning the third and final set 6/4 and seal the win and extend the team score to 3-1.
Avalon have fine doubles players so even with the lead MTC knew they had to go for the jugular to seal the deal.
The big dogs did not disappoint with #2 pairing Kyle and Jaden totally dominating the long time doubles combination of Marc Paulik and Nick White with a display of power, placement and a good dose of blunt force to execute a 6/1 6/1 demolition.
The top doubles match had no less than three players all under 18 years of age and with it all the ingredients for an exciting game.
The Miramar combination of Tom Bevan and Dan Hammond hit top form at the right time claiming the first set 6/2 in style. The second was much tighter but with the tie in the bag they were able to stay loose and were able to get a lead in the tiebreak and seal a wonderful day for Miramar.