Annual Central Awards
A key event on the Tennis Central calendar is the Annual Central Awards, where achievement and contribution to tennis across the region are recognised.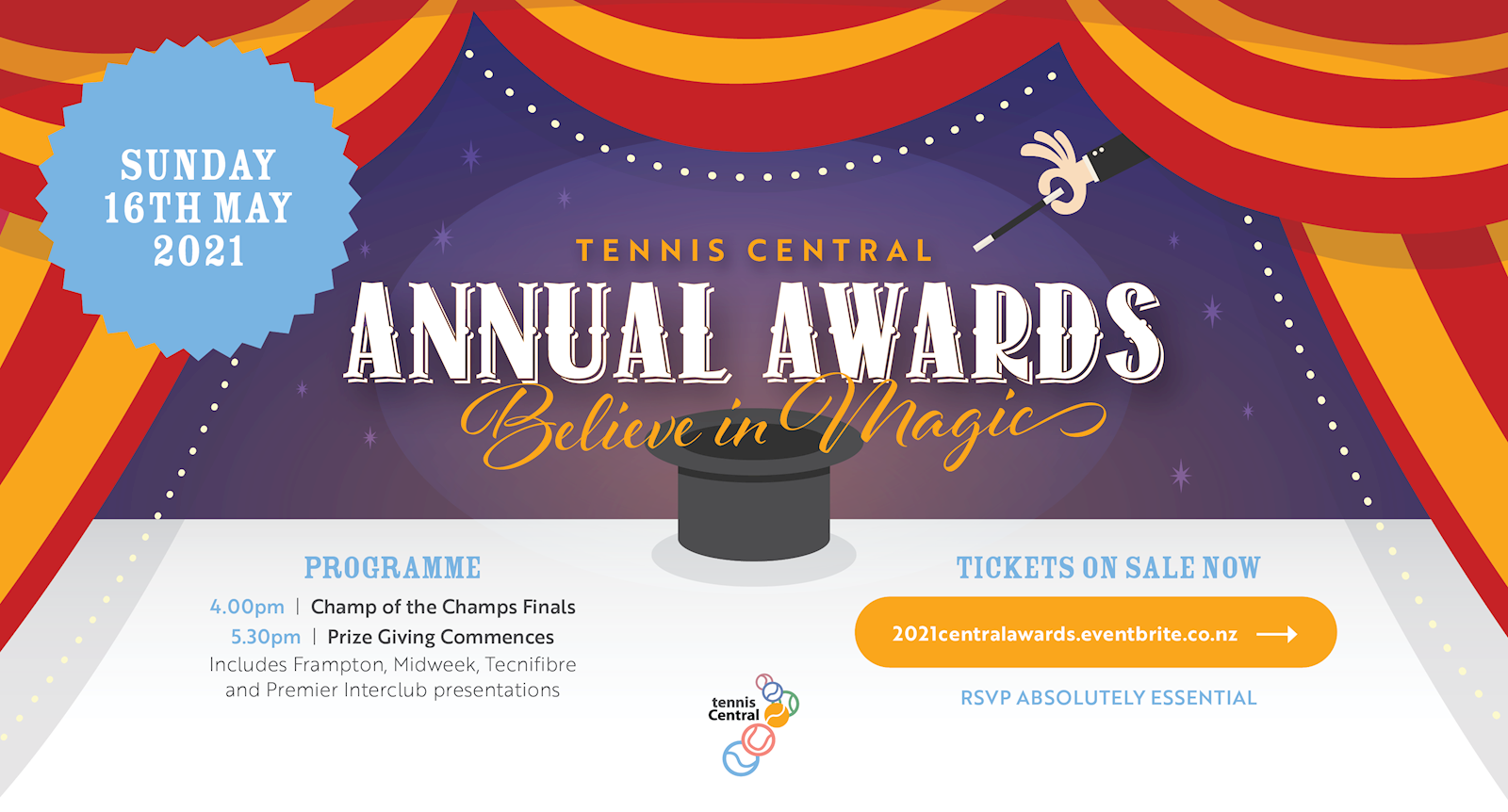 Key dates:
Nominations open - Monday 8 March 2021
Nominations close - Sunday 11 April 2021
Finalists announced - Tuesday 20 April 2021 (at the Central Club Forum and Facebook page)
Awards evening - Sunday 16 May 2021 - tickets available soon for an unforgettable evening.
CONGRATULATIONS TO ALL OF OUR FINALISTS!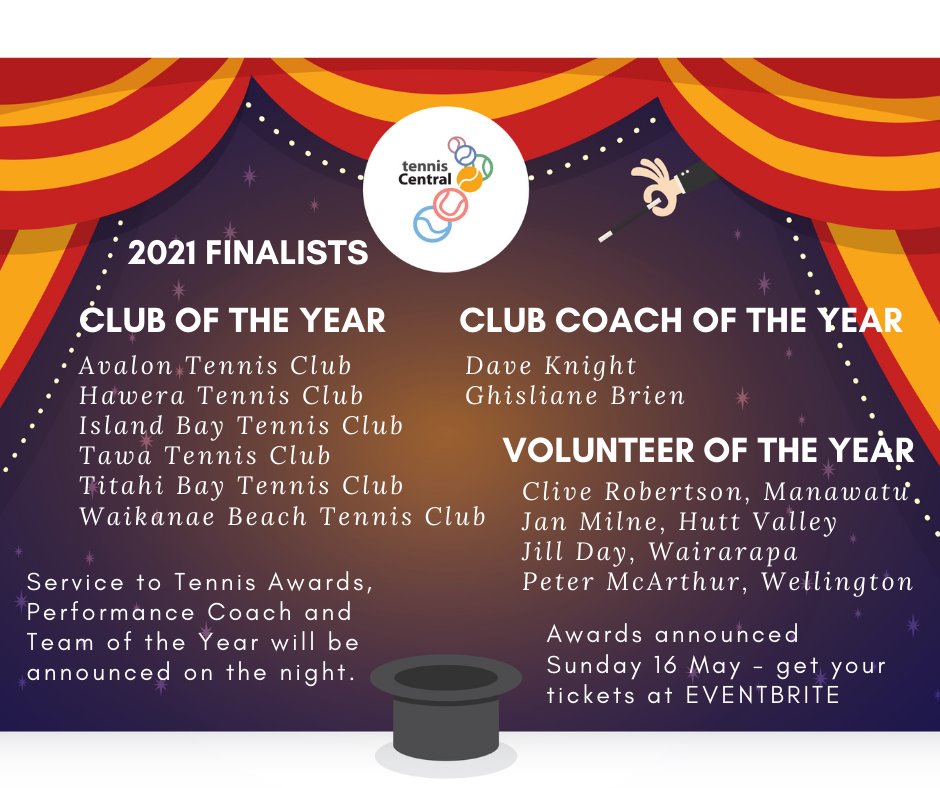 Nominations can be made by anyone and finalists are judged against CATEGORY CRITERIA by an independent panel of judges comprising of representatives from associations in the following categories:
Club of the Year
Club Coach of the Year
Volunteer of the Year
Team of the Year
Performance Coach of the Year
Service to Tennis Awards
Nominations can be made online
Celebrate the 2020/21 season, a great night out at the Tennis Central Awards.
DINNER & ENTERTAINMENT INCLUDED
Limited capacity, get in quick!
MatchPint Bar open
Tickets $10.00 per person available online (No Door Sales) + booking fee
Awards held at Renouf Tennis Centre, 60 Brooklyn Road.
Evening schedule:
4 pm Champ of the Champs Finals
5.30 pm Awards commence
Presentation of Frampton, Midweek, Tecnifibre, Premier Interclub Competitions PLUS the ANNUAL CENTRAL AWARDS
For more information please email mel@tenniscentral.co.nz
Winners in each category will represent Tennis Central Region at Tennis New Zealand's Annual Awards and the Sport Wellington Awards. Wellington / Kapi Mana Interclub Competitions, Premier, Tecnifibre, and Frampton Winter prize-givings are also included in the awards evening.
---
2020 Central Awards were not held due to Covid-19 Alert.
Congratulations to all the winners of the 2019 Central Awards!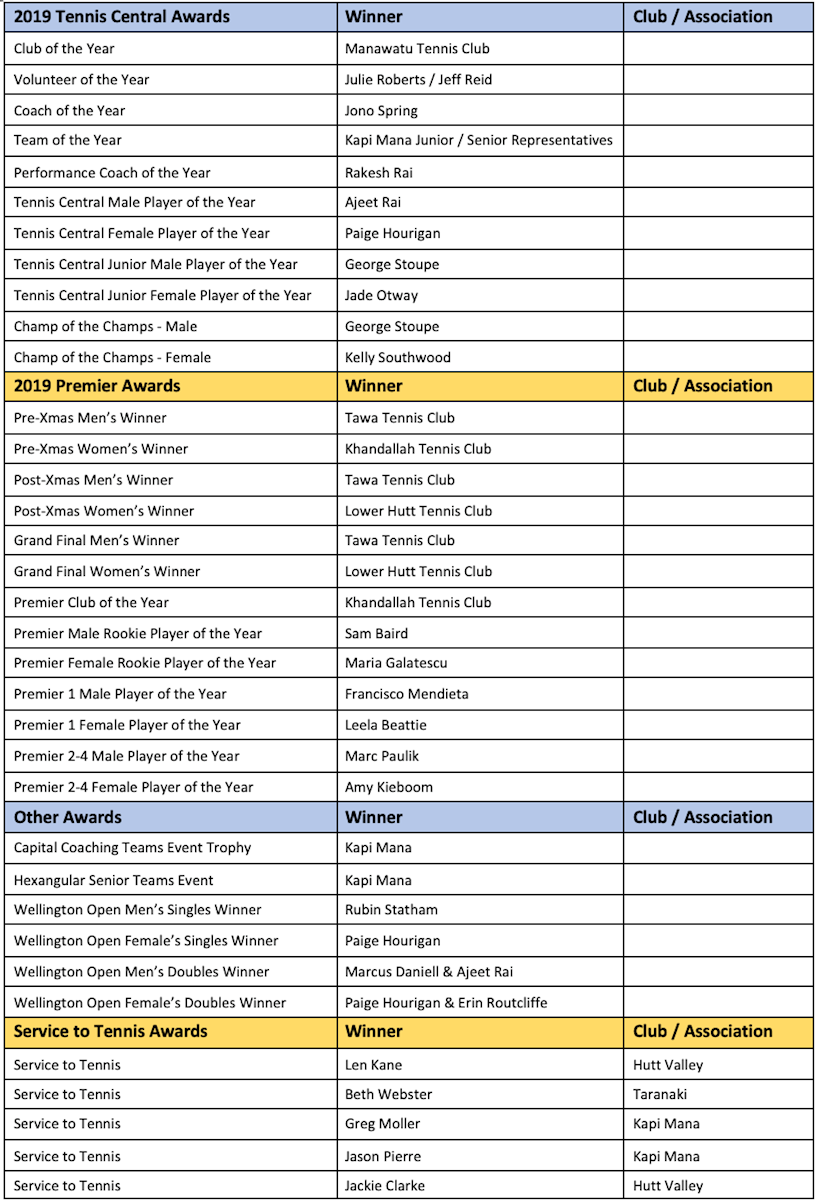 Previous Central Award Winners