Our Club Coach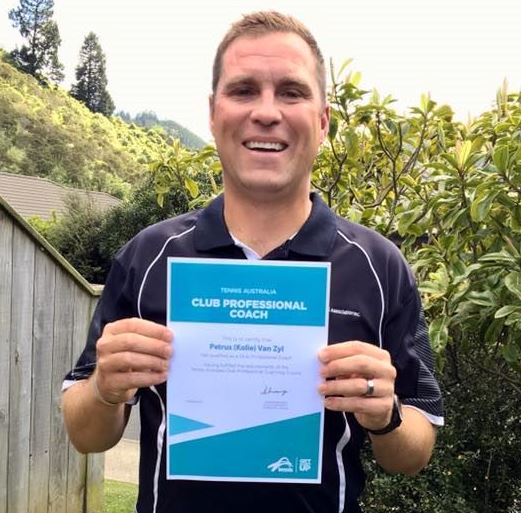 Kolie van Zyl has been Head Coach at the Tasman Tennis Club for the past 8 years.
Kolie grew up in South Africa and tennis has always been a big part of his life. He began tennis in the way many kids do, with a tennis ball against our garage wall, and went on to represent South Africa in Japan, the USA and throughout Africa as a junior tennis player, resulting in being a 3-time national champion.
Kolie completed his final year of high school at the Saddlebrook Tennis Academy in Florida, USA where he had the opportunity to play ITF tennis tournaments and played against some of the best players in the world including Andy Roddick, Michael Russell, Thomas Haas and practice partner for Jennifer Capriati.
After high school he travelled for one year playing professional tournaments throughout the world. He received a full tennis scholarship to the University of Alabama at Birmingham where the team reached a ranking of top eleven, Division One tennis in his junior year of university.
Kolie has coached tennis in both Alabama and Boston, USA to people of all ages and abilities He has worked with ITF level juniors and travelled with them throughout the USA for tournaments. He was a high performance tennis coach at Bosse Sports and Health Club in Boston for five years.
Nelson is home for Kolie with is wife Nichole and georgous two childres. He is proud to be able to offer his experience and services to Richmond Tennis Club members old and new.
Contact Kolie van Zyl HERE to register for one of our many coaching programs.
Visit our coaching page for more information