Club
Newsletter April 2023
Wed, 12 Apr 2023 00:00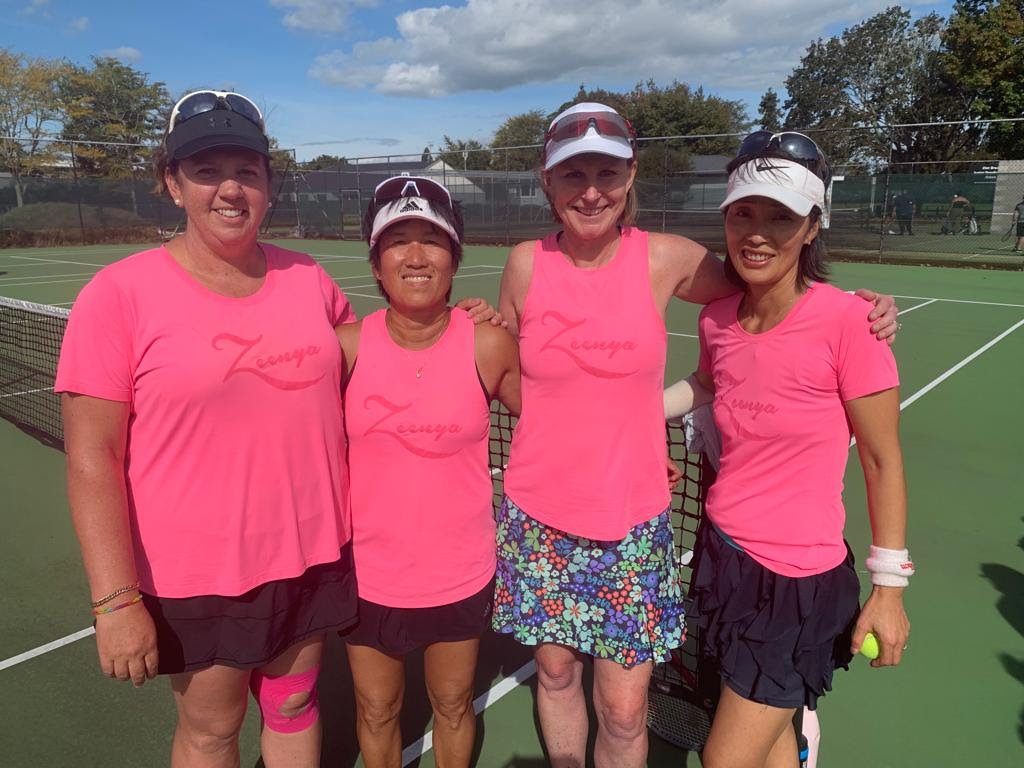 APRIL 2023

Hi TKHP tennis players

April has arrived with all its autumnal offerings.

Unfortunately the April working bee did not go ahead as planned, due to the saturated ground conditions. We extend a huge thank you to Bryce who oversees the maintenance of the lawn courts, and who, since our groundsman left at short notice, has put in many hours of volunteer time. Also a big thanks to Merv for stepping in at short notice to help with the mowing and Mike, who many of you will see around the grounds doing maintenance. It is a really good reminder that our club is run by volunteers, and it is lovely to see people stepping forward to help.

We are still advertising for a 'cleaner' for the clubhouse. This is generally an hour's job each week and is paid! If you know someone who would be interested, please ask them to get in touch with us.

Club Champs
Due to the rain over the past few weeks, and people getting busy with work and being sick, finals are yet to be played. However they will be played in April and results will be posted in May.
A warm welcome to our new club members-
New Senior members - Matt Heller, Beth Marriott and Sandra Misa

Any news or photos you would like published? Send them through to info@tkhptennis.nz
---
Organised Wednesday morning midweek tennis (A and B teams) is about to come to a close for the season.

The two teams, involving 12 players each week, have completed a total of 31 games (out of 43) from when the season started in September. Annoyingly, Wednesday mornings seem to attract rain, with 12 of those games being weather cancelled.

We have a great group of players, but sadly had to say goodbye during the season to Deborah (who left for work in Cambodia) and Sophie (who left for Queenstown). Notably, Sharee, playing for the B team, had a 95% attendance rate for the season (as well as providing the delicious pavlova at the lunch break).

A huge thank you to Rosie and Ivan (for co-managing the A team) and Vicky who manages the B team.

The good news is, that during the off-season, from 3 May, you will still be able to get your regular Wednesday morning play at our Club starting at 10am. Format to be three sets of play. Stay for a coffee/tea afterwards if you have time. No need to book, just come on down to the club.

Any queries or more information please contact Sharee ‭027 303 0024‬
---
Senior Interclub

The season results are as follows:
Men's
Premier – 6th place
Division 1 – 5th place
Division 2 – 6th place
Division 3 Blue - 5th place
Division 3 Black - 6th place
Division 4 - 12th place

Women's
Premier - 1st place
Division 1 - 4th place
Division 3 - 3rd place

Mixed
Division 1 - 5th place
Division 5 - 6th place

Senior Interclub Prize giving - Sunday 23rd April
Come and celebrate the 2022/23 season by having a hit from 10am.
Prizegiving will start at 12pm followed by a BBQ lunch.
Awards for best captain, sportsmanship and the most winningest singles and doubles players in the Womens, Mens and Mixed grades!
See you there!

Cheers,

Beth W
---
WINNERS
Congratulations to the team, comprising our own Christine, who won Gold at the National Teams Masters event in Hamilton over the Easter weekend.

The team is: (from left to right) Belinda Hirst- Oamaru, Christine Yap - TKHP, Cathy Forrest - Cashmere and Mandy Wilson - Cashmere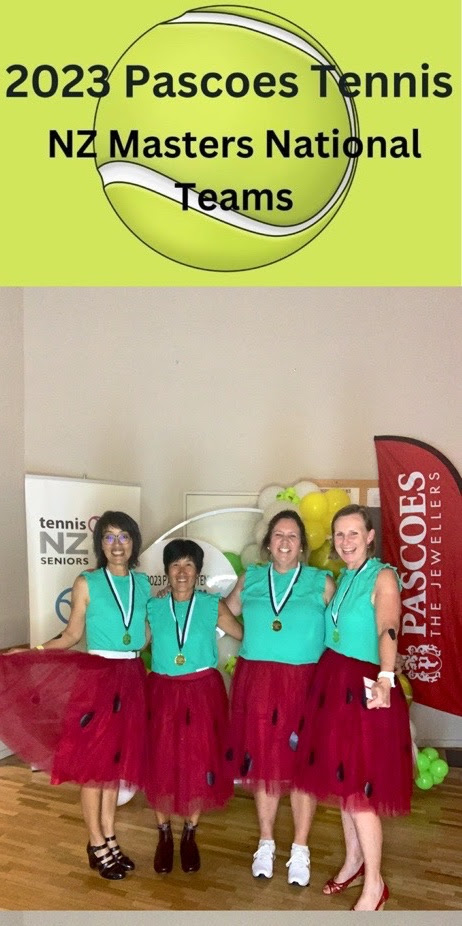 ---
Position Still Available

Our usual Clubhouse cleaner has left for University. We would like to offer it to someone in our tennis community.

Details: 1 hour per week
This is a paid position

Suitable for a parent (who may regularly attend anyway) or a teenager (after their regular coaching).

Please email info@tkhptennis.nz for more information
---
Congratulations to our Junior Club Teams!
It's been another fantastic season for our coaching staff, enjoying the progress of the players we work with at TKHP.

There have been many notable performances from our TKHP junior players.

Firstly, we had many successful interclub teams across the ages and divisions; well done to every player who gave it their best for their team and club. We hope that everybody enjoyed their time on court.

1st Friday Mixed 10s D1
Friday Boys 12s BLUE D1 (combined with Bishopdale)
Friday Boys 12s RED D3
Saturday Mixed 10s D3
Saturday Girls 14s RED D1
2nd Friday Boys 12s BLACK D3
Saturday Girls 12s BLUE D2
3rd/4th 7 teams
5th-8th 4 teams
Also, congratulations to all the juniors playing in the junior club champs over the past weeks. We have seen some great competitive tennis being played including some good friendly rivalries

Thank you to players and parents who efficiently organised their matches to be played.

We intend to hold a prize giving at the club soon and all members will be notified about this via email:

Congrats to the winners and runner-ups of all the completed sections, listed below
10s boys
Singles : 1. Jacob Wilson
2. Louis Tian
Doubles: 1. Jacob and Mike Zheng
2. Louis and Maki Leek
10s girls
Singles : 1. Harriet Gough
2. Mila Wang
12s boys
Singles : 1. Isaac Fung
2. Harley Xiong
Doubles : 1. Harley and Isaac
2. Kingsley Lee and Nic Preston
12s girls
Singles : 1. Tessa Meng
2. Ivana Preston
Doubles : 1. Tessa and Ivana
2. Sylvia Li and Mila Wang
14 girls
Singles: 1. Sue
2. Ayla
18s Boys:
Singles : 1. Daniel Streletsky
2. Ray Xu
We would also like to congratulate our TKHP div 1 mens player Franklin Barry, who was part of the Christ's College team that qualified for the National Secondary Schools tournament, and made it all the way to the final.
And our last mention for this newsletter, is that our coaching team is super stoked that 26!! TKHP juniors have entered in the Canterbury Junior Championships, that starts this Friday. Best of luck to all of you!!
Hugo Strang
Head Coach
---
---
https://theracquetroom.co.nz/

The Racquet Room, operated by our coaches Hugo and Noah, have you covered for every Racquet requirement.
You can make contact via the website or see them at the Clubhouse.
---
Valid for all TKHP Tennis members