Club
Newsletter April 2022
Thu, 07 Apr 2022 00:00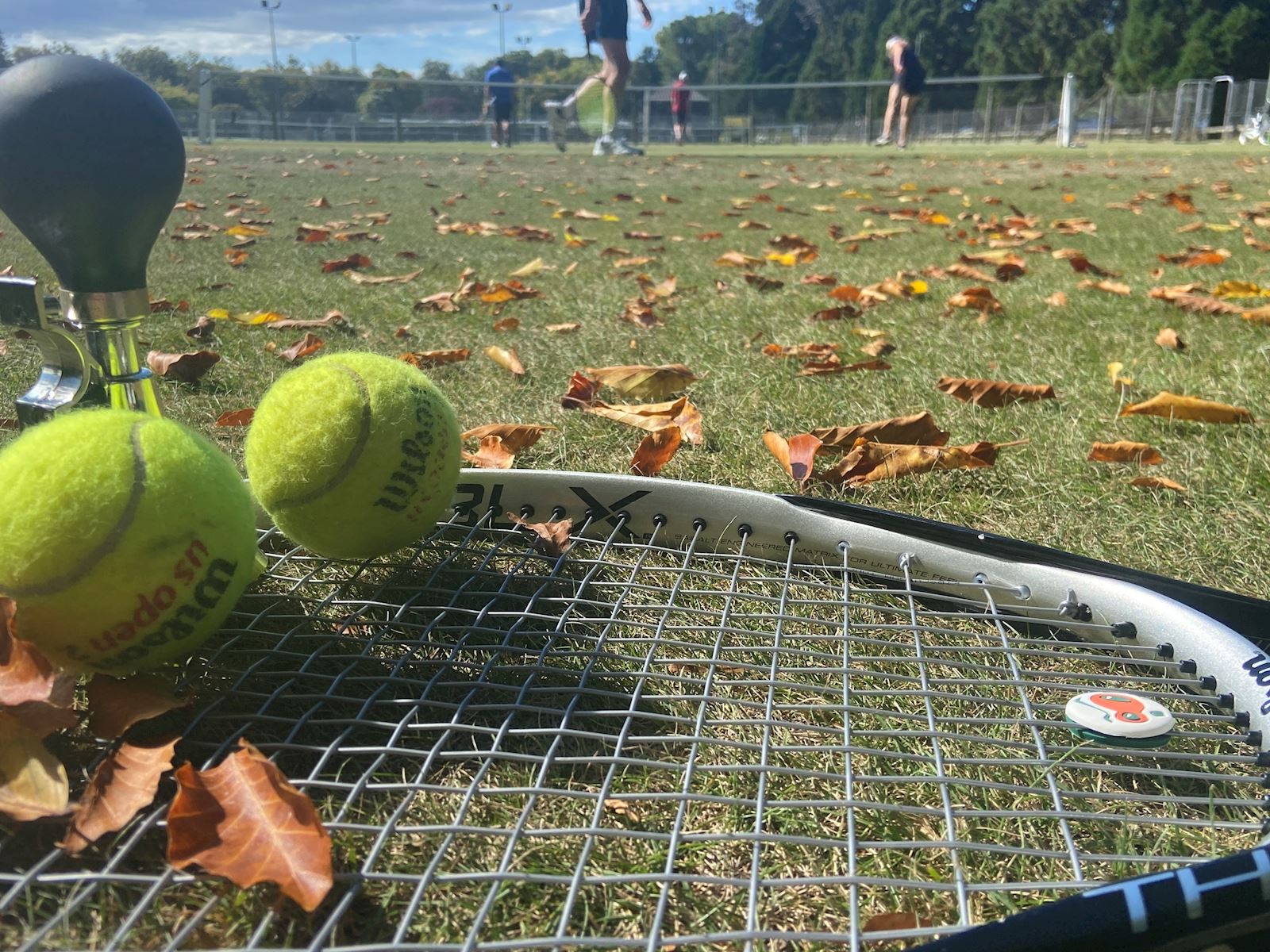 April 2022
Hello members
March was an extremely busy month for coaches and tennis players, making the most of the autumn weather, the grass courts, avoiding Covid-19 and playing in the Club Champs.
Covid 19: We are happy to report that in accordance with the new Covid-19 protocols we are fully open for business. Scanning and Vaccine Passes are gone. While not compulsory, for now mask wearing is still going to be an important part of the equation, along with sanitising and keeping up hygiene measures.
Upcoming dates for your calendar:
Working bee - topdressing - April 9
Easter "Hop" Shots Tournament - April 10
Working bee (back up days) April 10/23
Hotshots Tournament - April 22
Hotshots Tournament - April 29
A warm welcome to our new club members -
New Senior members
Ngaire Mclernon, Takahiro Kato, Nienke Hagedoorn, Penny Blomfield
New Junior members
Suah Kwon, Yihan Liu
---
CLUB CHAMPS

On a beautiful Saturday afternoon last weekend, some of the finals were played. There was a great vibe at the clubhouse with plenty of support for the players.

Results:

Mens Singles: Hugo Strang
Womens Singles: Beth Williamson
Mens Doubles: tbc
Womens Doubles: Beth Williamson and Michelle Kelsen
Mixed Doubles: tbc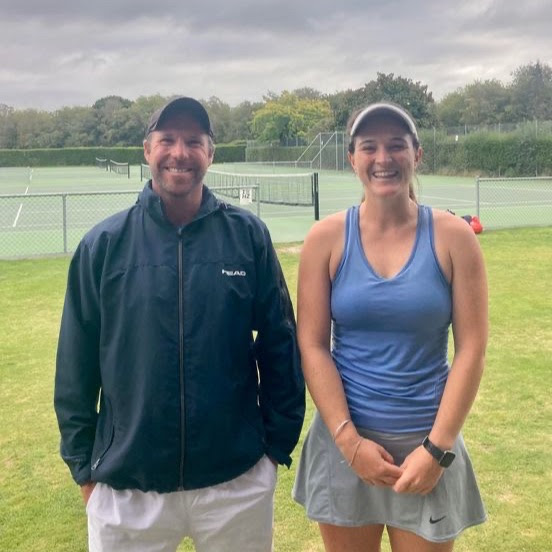 Hugo and Beth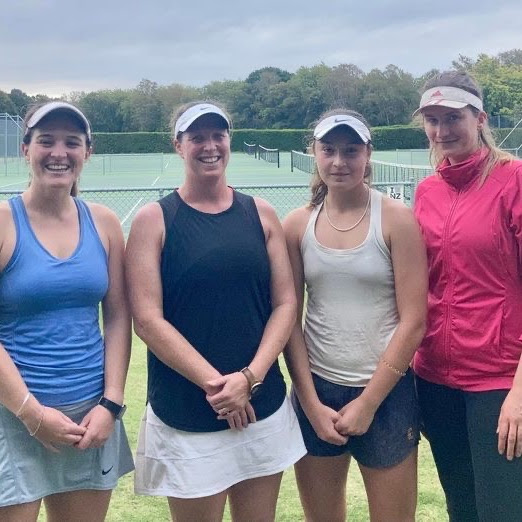 Beth and Michelle, and runners up Alkmini and Petra.
---
Now that daylight saving has been removed, we will be having more requests to play under lights. All members are able to use the lights at Hagley. However there are responsibilities attached, and protocols around the turning these on and off. Please email members@tkhptennis.nz for access.
---
No - its not winter yet
but there are interesting options for playing tennis over the colder season.


MIDWEEK play at Spreydon Tennis Club

Spreydon run a friendly mid-week mixed social competition from May 4th on a Wednesday morning at 10am. We have had a team of 4 entered in the past. If you are interested please let reply asap and we will get a team entered. Cost tbc.
Winter Interclub Competition
Tennis Canterbury will once again be running it's popular Winter Interclub competition on a Saturday indoors at Wilding Park. This is open to all senior levels and is a great way for players to continue their hitting over winter, with guaranteed play in a team format and results captured to MatchHub. Starting date 14th May.
Winter Interclub season runs from May-August. Play 2 hour rounds from 9am, 11am and 1pm Saturdays. 3 person teams, 2 singles and 2 doubles matches with Fast Four Scoring. Played indoors at TrustPower Tennis Centre @ Wilding Park.

contact: tom@canterburytennis.co.nz
Business House - Monday, Tuesday and now Wednesday
Due to popular demand Tennis Canterbury have added another evening to their existing business competition. Play will follow the traditional format of 3 x 30 min rounds with teams of 4 playing indoors at alternating times of 6.30pm and 8.30pm.
They will have a bar open along with complimentary light food.

contact: tom@canterburytennis.co.nz
Wednesday and Friday Women's League:
Tennis Canterbury have capacity for 12 teams, with the competition kicking off on the 4th/6th May.
This follows the usual format, with 3 x 30 min rounds with teams of 4 playing indoors at alternating times of 9.30am and 11.15pm indoors.
contact: tom@canterburytennis.co.nz
---
Junior Club Champs

Congratulations to everyone who took part in the Junior Club Champs. The results were:

Hot Shots Red Ball
Winner: Constantine Verbysky Runner Up: YiZiXuan Han

Hot Shots Orange Ball
Winner: Nitin Keswani Runner Up: Sylvia Li

10s Boys Singles:
Winner: Freddie de Costobadie Runner Up: Thomas Weir

10s Boys Doubles:
Winner: Thomas Weir and Freddie de Costobadie
Runner Up: Seth Tao and Mike Zheng

10s Girls Singles & Doubles:
Yet to be completed , player isolating

12s Boys Singles & Doubles:
Yet to be completed , player isolating

12s Girls Singles:
Winner: Emily Prebble Runner Up: Tessa Meng

12s Girls Doubles:
Winner: Jasmine Falta and Emily Prebble
Runner Up: Tessa Meng and Sue Le

14s Boys Singles:
Winner: Yul Kwon Runner Up: Ray Xu

14S Boys Doubles:
Winner: Ray Xu and Yul Kwon
Runner Up: Yajat Lamba and Daniel Streletsky

14s Girls Singles:
Winner: Summer Zhou Runner Up: Sophia Falta

14S Girls Doubles:
Winner: Sophia Falta and Summer Zhou
Runner Up: Gemma Sitjes and Anna Qiu.

18S Boys Singles:
Winner: George Brakenridge Runner Up: Ed Parkes

18S Girls Singles:
Winner: Natalie Hetherington Runner Up: Lily Bryant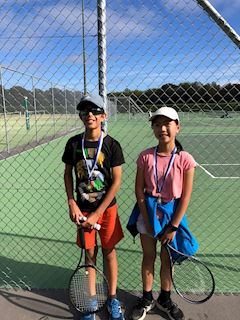 Nitin and Sylvia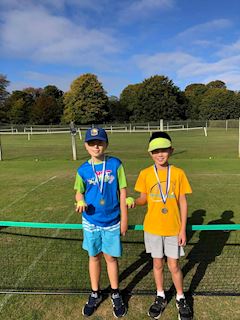 Constantine and YiZiXuan
---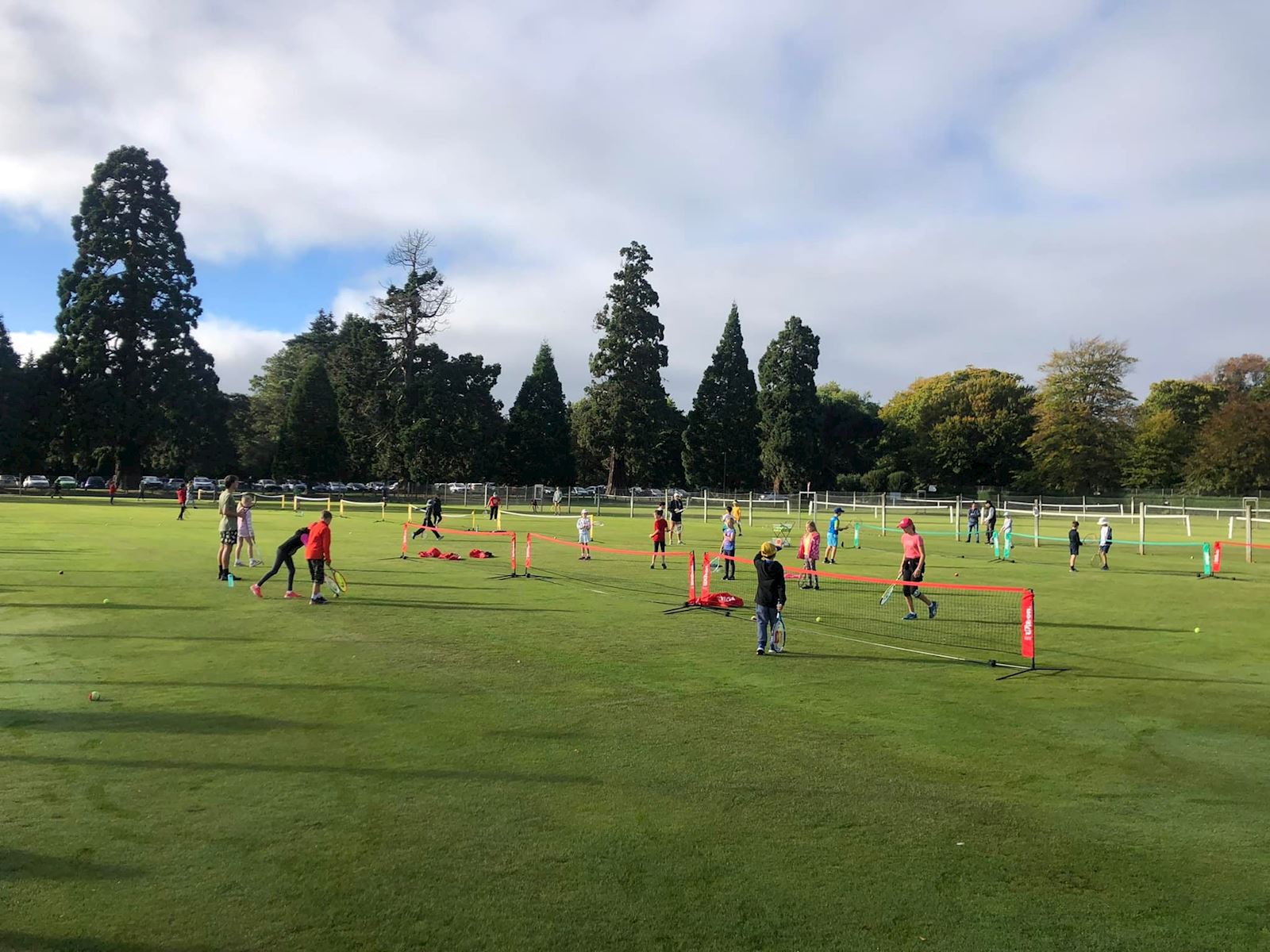 Hot Shot Club Champs

An awesome day of Hot Shots Club Champs on the weekend! Thank you and well done to everyone who came along and thanks for a great season - it has been our best yet!
We look forward to seeing you continue throughout winter, keep an eye out for more opportunities to play
---
Junior Interclub

This month's organisation was a massive effort with so many children out with covid. The rules were relaxed so that games could be played.
Unfortunately, medals for the 1st & 2nd placings have been delayed. We will get these out to teams as soon as they become available. Apologies from TCRI & the suppliers.
Our Club team results for the Season were –
1st 7 teams:
Friday:
Boys 14 BLACK D2
Girls 10s D2
Girls 14 RED D1
Girls 14 BLUE D3
Saturday:
Boys 12 BLACK D3
Boys 14 BLACK D5
Boys Open D1
2nd 3 teams:
Mixed 10s Team 1
Mixed 10s RED (new in Feb)
Girls 12s Red
3rd/4th 4 teams
5th-8th 3 teams
Out of 17 teams , having 10 placed 1st & 2nd was further improvement on last year (8/18), and testament to the commitment of the coaching team and the kids enthusiasm for tennis.
There has been a good vibe in all the Junior teams, with limited requests for fill ins other than COVID.

TCRI Junior Interclub 21/22 Season Participants Survey:
This is for players to fill out, however younger players may require parents/caregivers to fill out the form for them. We look forward to receiving this feedback and value our participants voice in the constant improvement of our competition. It is incredibly valuable in shaping our competition for the future.
https://forms.office.com/Pages/ResponsePage.aspx?id=OxWWMMjbq0CpMsT31SPK5p4clfczz-tBo1btcrv4VYJUQksyQVVHUDhaMUROSERQS0JTN0FFQlhJNS4u
---
ORANGE BALL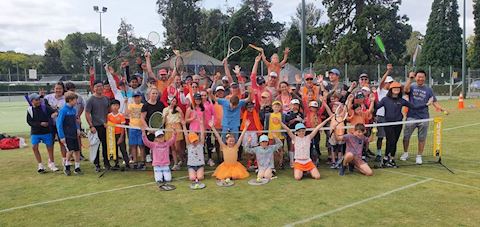 Orange Ball Family Fun day was held on the lawn courts in March. Fifty-six players enjoyed the afternoon, with a spectacular afternoon tea.
Congratulations to the competitive and semi-competitive winners Yul and Louis Kwon and Suah Kwon with Christine Yap.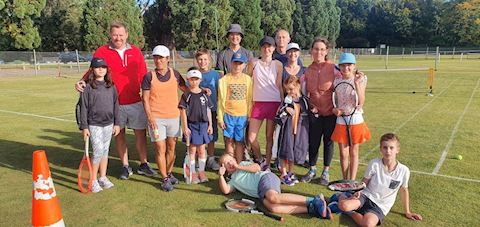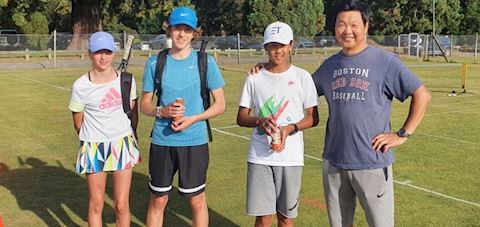 ---
And, as a special treat for reading to the end of the newsletter, let me introduce your Committee to you: Sam Hetherington (President), Sarah Schneideman (Vice President), Charlotte Bryden (Treasurer, Junior and Member administrator), Vicky Jones (Secretary), Hugo Strang (Head Coach), Christine Yap (Coach) Beth Williamson (Club Captain) , Michelle Kelsen, Giuseppe Loporcaro, Emma Maciaszek, Bryce Thomson (Grounds Manager), Tim Preston (all things Hotshot) and Noah Holmes (Assistant head coach).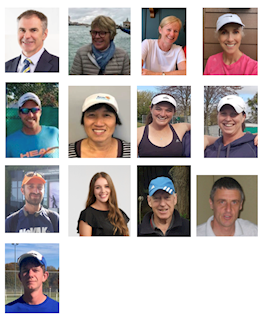 ---