Club
Club Update - November 12
Fri, 12 Nov 2021 00:00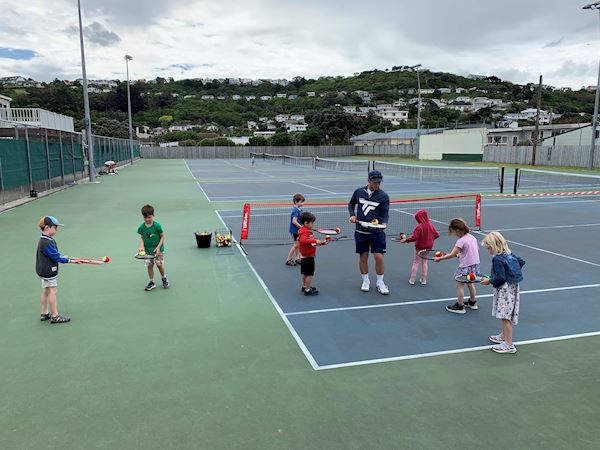 Real up and down weather as of late. Beautiful through the majority of the week and then rain, wind and wild on Saturdays just in time for interclub (Grrrrr!) The prospects of more reschedules are high for this weekend so please make sure you are using the court booking sheet when planning. This time of year there is high demand on courts after work.
Community Play (Give tennis a go day)
Community Play or "Give tennis a go day" is scheduled to start this Sunday 14th November at 1-3pm. This will run for 6 weekends, each Sunday at 1pm through to Sunday 19th December. (Post Christmas dates to be confirmed early in the new year).
If the weather is looking dodgy please check our website home page for cancellation announcements on Sunday morning.
A big thanks to Mana Toyoda will be helping the club coordinate Community Play. The session is an open session for the community to come down and give tennis a go. Bring all the kids and jump on a court! When more experienced club members are in attendance we will look to run ad-hoc fun games and activities for people to participate in. This is not a coaching session and kids will need to be supervised. manatoyoda@gmail.com
The idea is that parents and kids are enjoying the time with each other and their friends.
The session is free for current members. For non members please please head along to the membership page on our website to sign up.
Club Fundraising and Social Event (Pub quiz)
Mark down Wednesday 24th in your calendar for a fun and social get together. Events will kick off at 7pm with drinks and nibbles. Social tennis night is on Wednesdays so at about 8pm once they have come upstairs we will get the pub quiz underway. This is a great way to meet new club members and have a bit of fun.
$20 cover charge - please head to our membership page to pre-purchase your tickets. (This includes entry to the quiz and 2x drinks tokens at the bar).
Club Sponsor
Shout out to Lance Williams who enters his third term as a Miramar Tennis Club Sponsor!
Lance is not only a top agent but a top guy and big supporter of junior sports in the Wellington Region!
l.williams@raywhite.com 022 621 2001
Social Tennis
Social Tennis runs each Wednesday evening from 6:30pm. Contact Neil Wong to get on the text list. All members welcome!
Coaching
Coach Vojdan has lots of different coaching sessions running and has more people attending than ever before. These include beginner adult sessions through to private and group lessons for more experienced players. After school HotShots junior sessions are very busy so get in touch with Vojdan or head to https://www.planitpro.co.nz/book-now/ to book a class.
Interclub
We are now into our fourth week of interclub. Most of our teams feature mid pack to top half of the points tally. A few highlights being Prem 1 Men remaining unbeaten and sitting top of the table. Prem 1 Women won their first tie in the top flight which is a great achievement after receiving promotion into the grade. Welcome to all new players playing their first games for the club.
Junior interclub is ticking along niocely and great to see busy courts on Sunday mornings.
Shout out to Sean Fennasy and David King who have been assisting with training plans and helping with team coordination respectively. Awesome stuff guys! Your work doesn't go unnoticed.
High Performance
In the high performance space, fresh from making his MTC debut, Whangarei based Daniel Hammond (17) won the singles championship of the J5 ITF junior event in Christchurch. Daniel also reached the doubles final teaming up with Seatoun native Zeno Varohas-Poole, unfortunately they went down 7/6 7/6. Dan is a classy lefthander who we look forward to representing MTC at the highest level. Congratulations Daniel on the Championship - amazing result.
Schools
Scots College held their annual fixture between Wellesley College yesterday. Lots of players and smiling faces. Both schools splitting the results amongst the A & B teams!
Cheers
Shane - Club President
0231364406