Is your club in or out?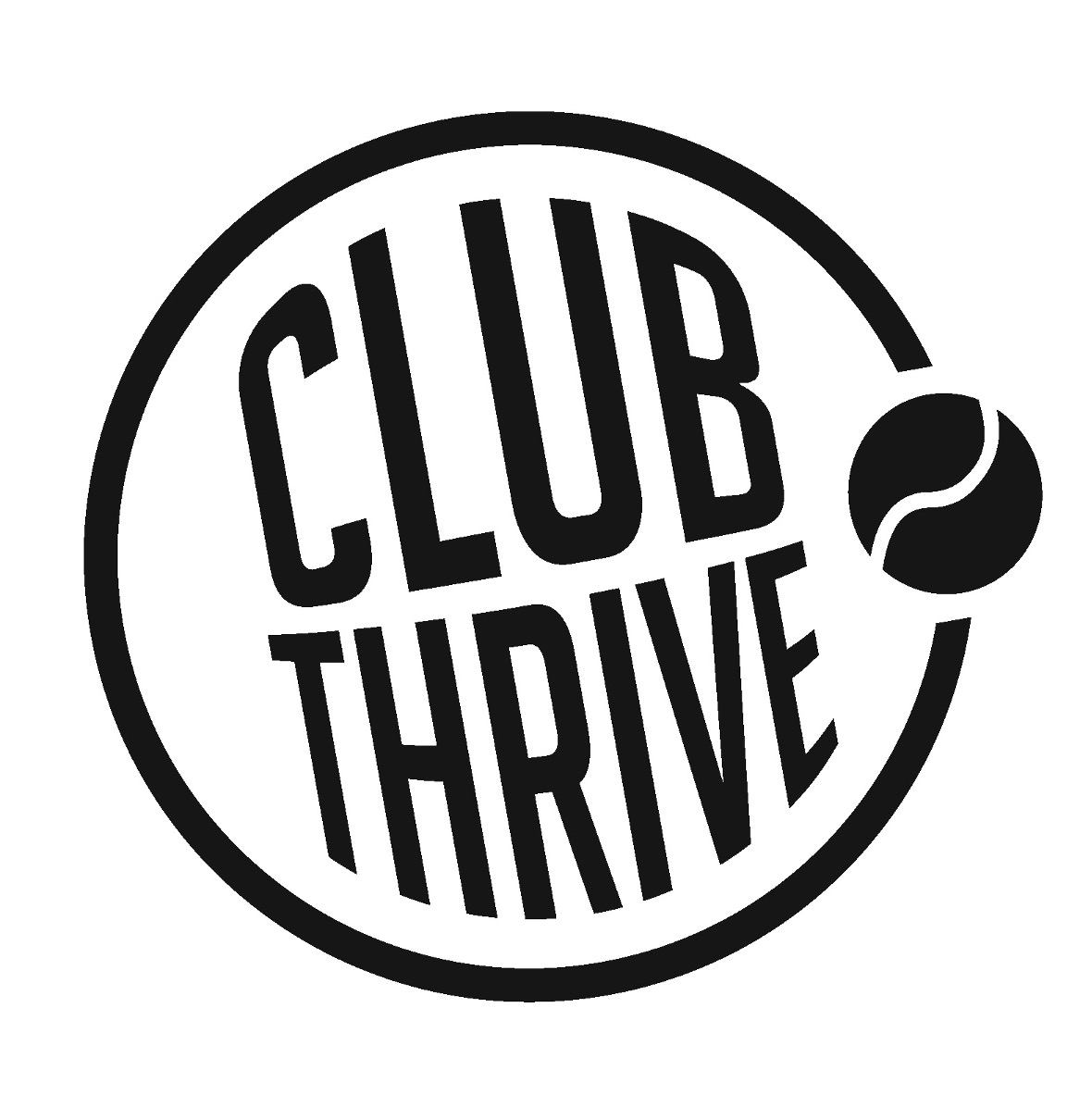 Wellington & Kapi Mana Clubs are on a journey to
revive, survive and thrive.
Why?
Continuing current paths, clubs may not survive
To enable change for a better way forward
Aim
to sharpen up for the future
invigorate you to magnitise your community
mobilise your troops
most importantly, make our clubs the best in the country!
Watch the presentations from previous sessions below. If you would like to find out more about how to get involved in Club Thrive, get in touch today or just come along to the next session.
---
Join us for the next Club Thrive session
Club Forum & Club Thrive Session Wednesday, October 19⋅6:30
Join Zoom Meeting
https://us02web.zoom.us/j/81121380619
Club Forum approx. 1 hour
Club Thrive session approx. 1.5 hours
Stay for both!
---
DOWNLOAD CLUB THRIVE CALENDAR HERE - (note updates may be made from time to time)
VISIT THE ONLINE CALENDAR HERE
DOWNLOAD THE ICS FILE TO IMPORT TO YOUR CALENDAR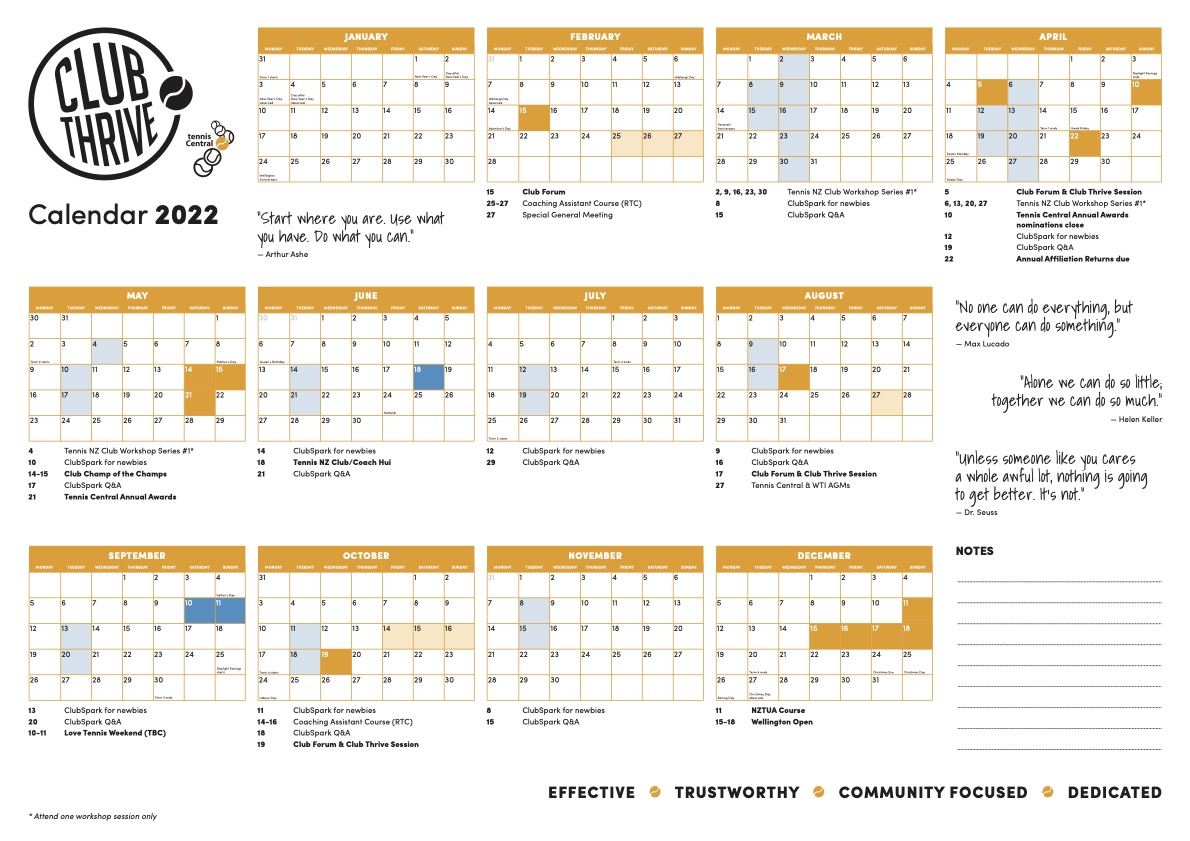 ---
Background
Club self-assessment summary and membership trends
In 2021 clubs were asked to complete the self-assessment matrix to see how they were tracking. It enabled Tennis Central to identify key areas of where support was required and base session topics on these areas.
Overall club self-assessment summary results
In summary, clubs are getting the basics covered but committees have little time or energy to take on much else.
We identified that clubs are achieving

91% - Core functions

70% - Meeting member needs

39% - Growing membership

31% - Achieving excellence

What we are doing well

Financial management

Facilities/Assets

Committee functions

Improvement needed

Activities on/off the court

Participation Programmes

Club Capability (we are all working on this!)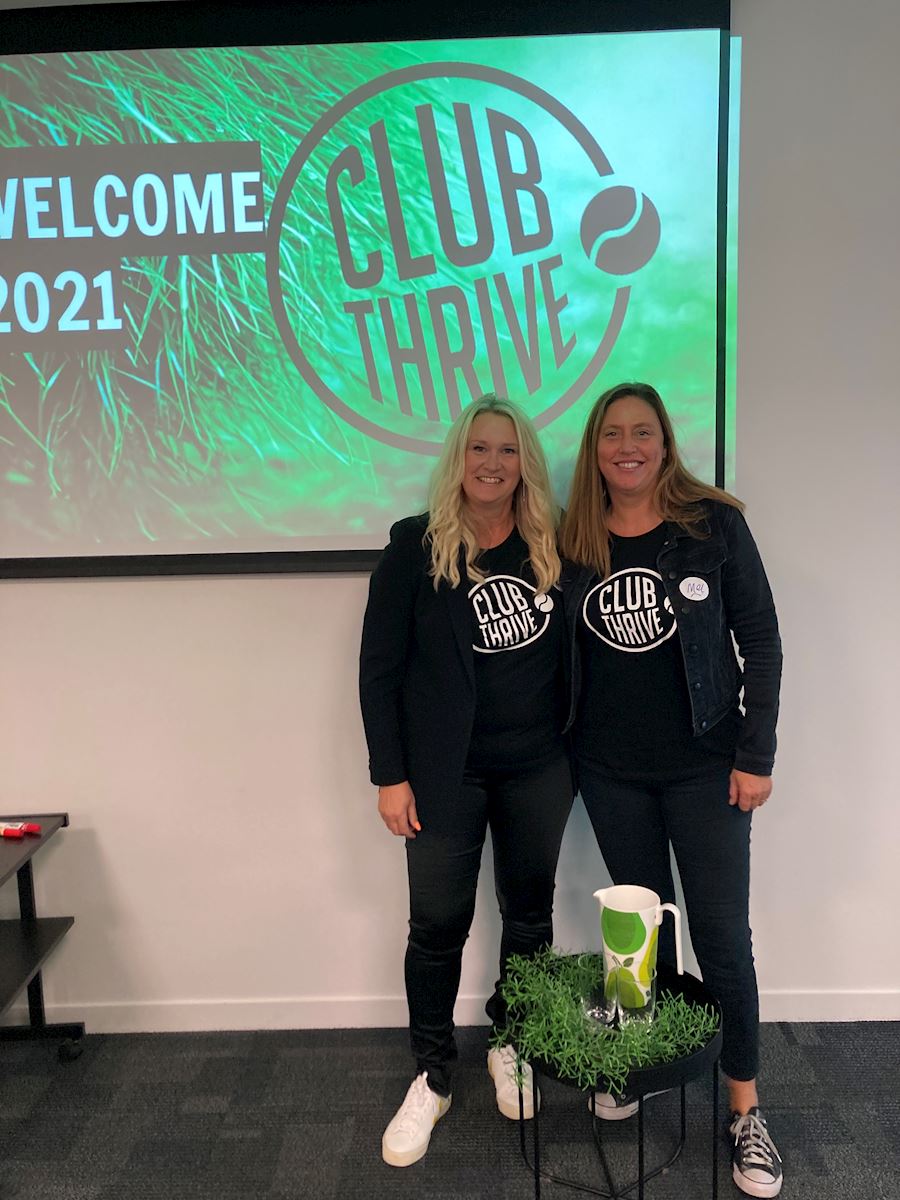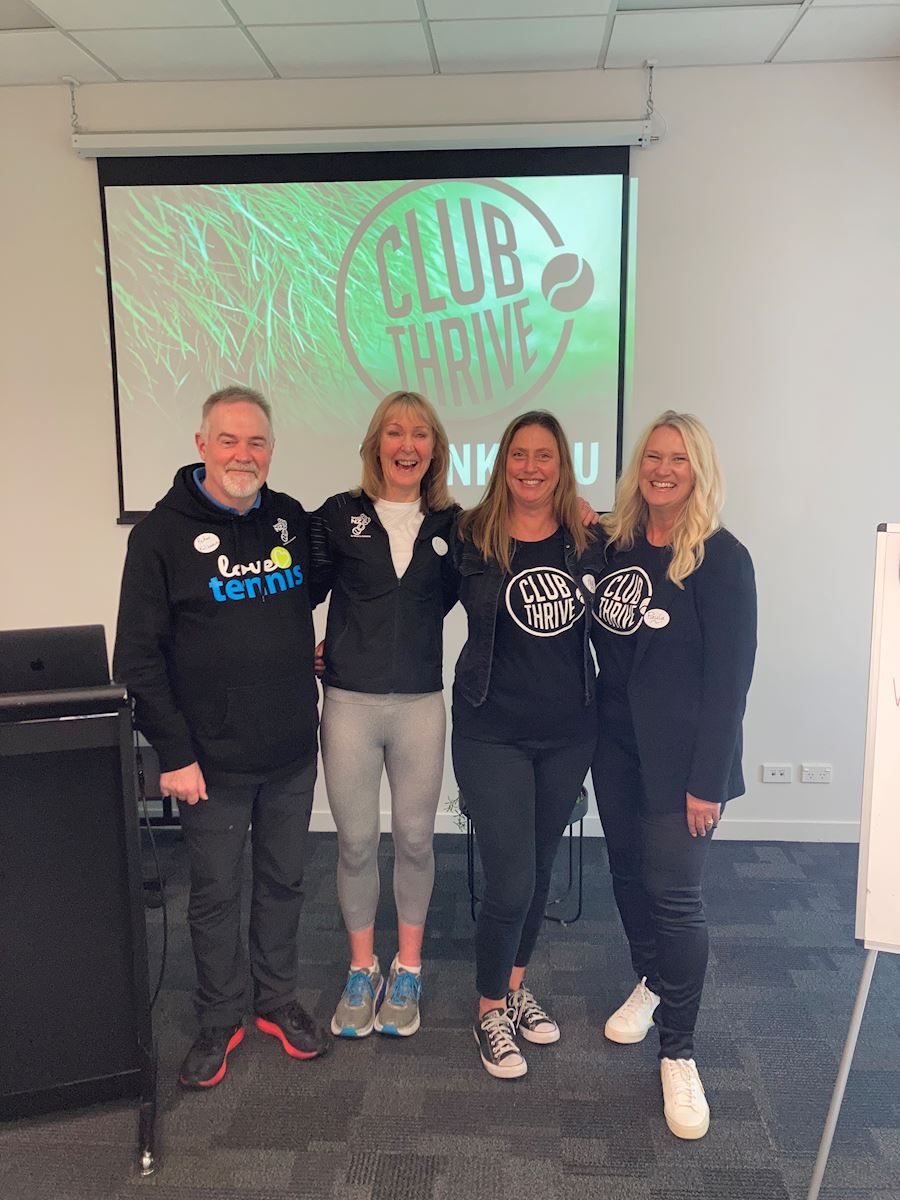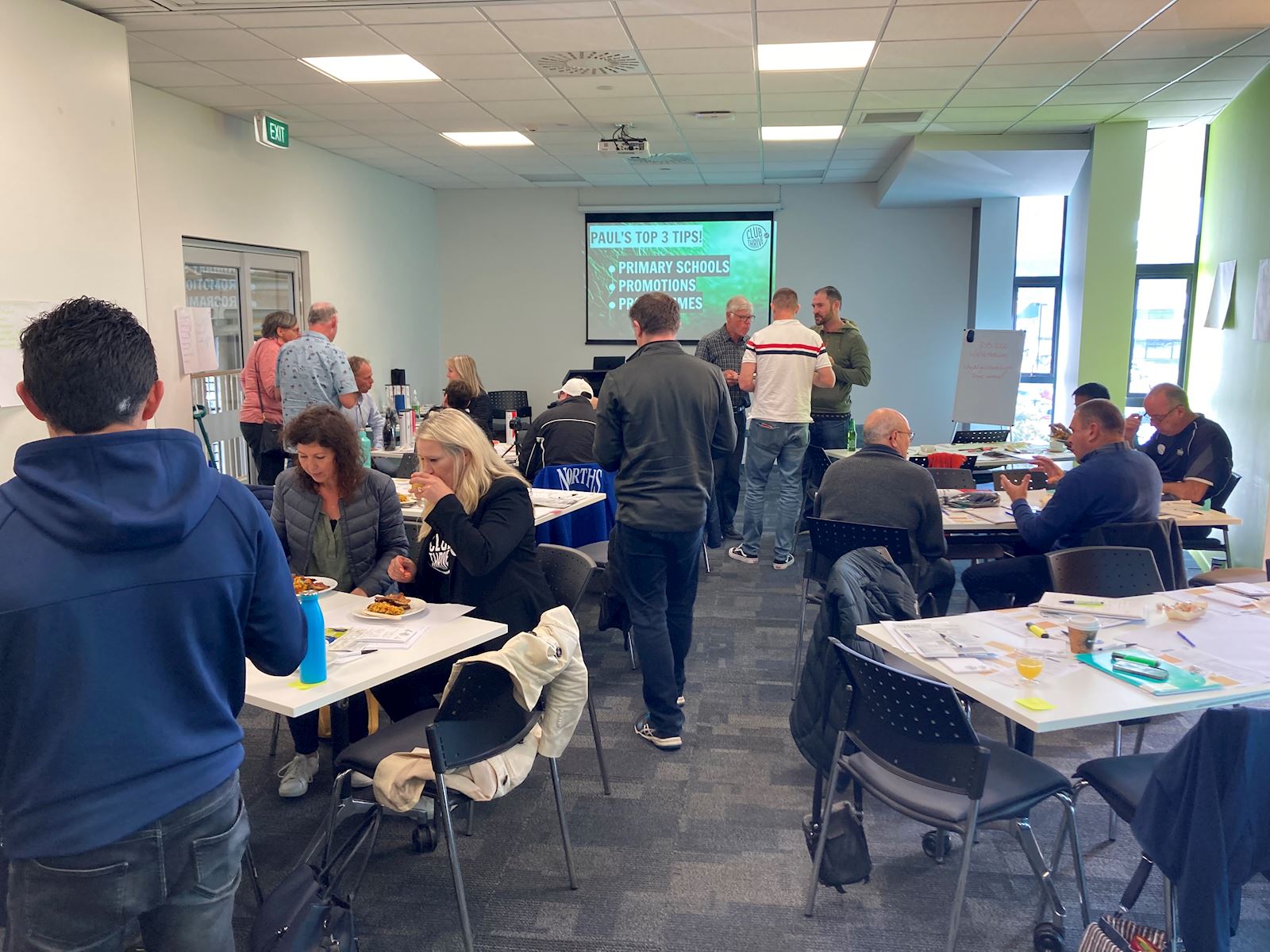 Club Thrive session Saturday 22 May 2021
Check out the speaker's Top Ten Tips and quotes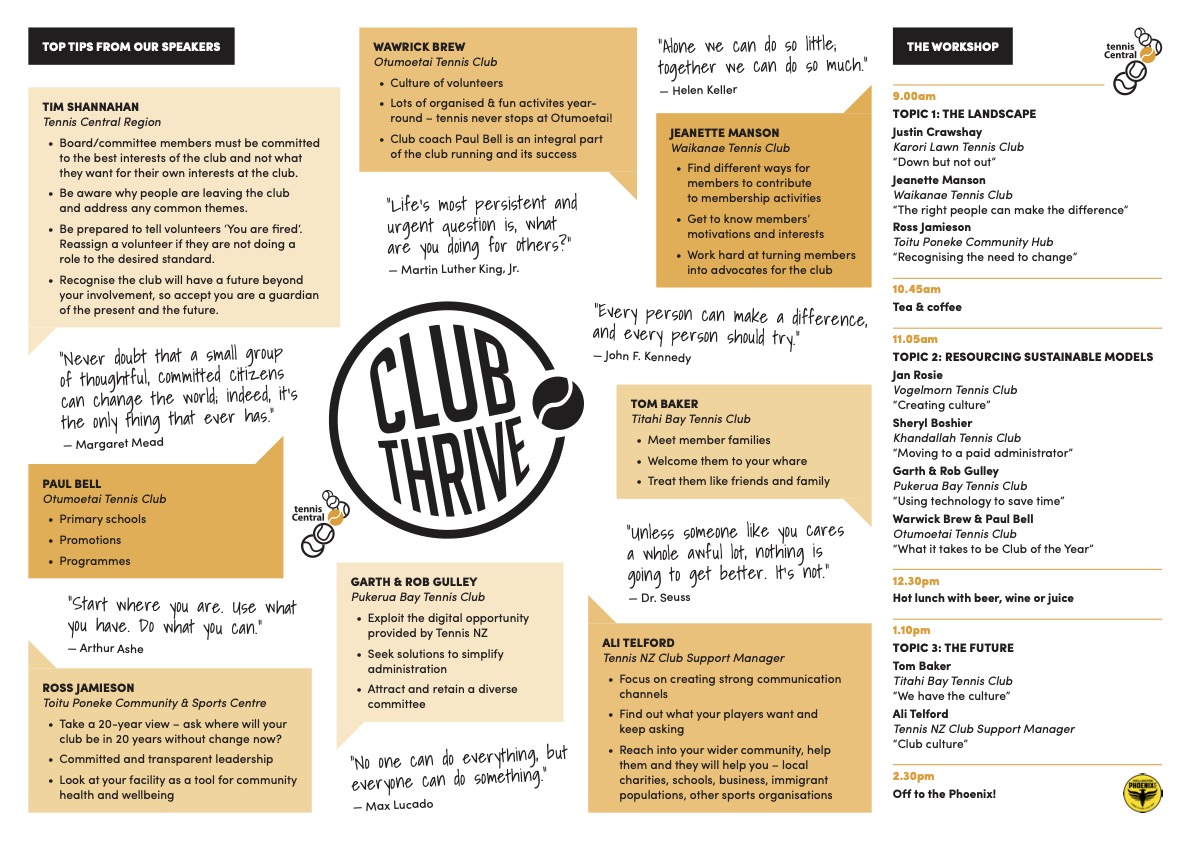 Workshop Presentations
| | |
| --- | --- |
| Tim Shannahan, CEO Tennis Central | Workshop welcome |
| Justin Crawshay Karori Lawn KUTC video | "Down but not out" |
| Jeanette Manson, Waikanae Beach Tennis Club - power point | "The right people can make the difference" |
| Ross Jamieson, Toitu Poneke Community Hub - power point | "Recognising the need to change" |
| Jan Rosie, Vogelmorn Tennis Club | "Creating Culture" |
| Sheryl Boshier, Khandallah Tennis Club | "Moving to a paid administrator" |
| Garth & Rob Gulley, Pukerua Bay Tennis Club | "Using technology to save time" |
| Warwick Brew and Paul Bell, Outumoetai Tennis Club - power point | "What it takes to be club and coach of the year" |
| Tom Baker, Titahi Bay Tennis Club | "We have the culture" |
| Ali Telford, Tennis NZ - power point | "Club culture" |
| Brad Watts, Thorndon Tennis Club | "Benefits of a paid administrator" |
---
Club Thrive Session Wednesday 1 June
Finding the best way to retain members
TOP TEN TIPS FOR A CLUB SURVEY
---
Peter McArthur, Kilbirnie Tennis Club
---
Erin Rush, Harcourts Wellington City
"Looking after customers" / SLIDES
---
Seth Campbell, Karori United Tennis Club
---
Activities on and off the court
Workshop Brainstorm of ideas for your club