Juniors Information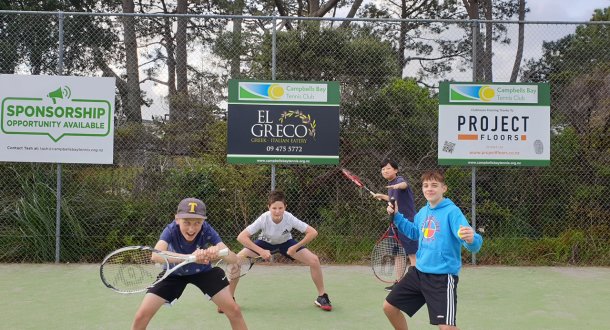 Junior Membership
Junior membership includes:
15% discount on Kiwi Tennis group coaching programmes
Free entry to Junior Friday Night Socials during term times
Access to the facilities all year round
Coaching
Kiwi Tennis' junior coaching programme can cater for any age or ability, from a complete beginner through to national competitor. We ensure that every child can achieve their full potential and deliver a personalised programme to each and every child we coach.
We are Tennis New Zealand Hot Shots coaches, so for our younger players we ensure they are playing with the correct sized racquets, balls and nets. The programme allows players to fit into the correct group based on ability, whilst it also maintains the flexibility to move players through the various levels as and when they begin to progress.
Junior Interclub
Once children have a firm understanding of the basics and show an interest, we encourage children to progress to playing Junior Interclub. This is where they really learn how to play and we see a rapid improvement in the game. There are a number of grades at Junior Interclub level and we encourage players to give it a go from beginners to premier players.
Enrolments are asked for in Term 3 (for Term 4 competition) and Term 4 (for Term 1 competition) by the Junior Convenor. Cost for interclub is $25 per term fee ($50 for both terms), paid at time of membership enrolment
Structured Coaching Programmes
Our coaches have a structured programme for children of all levels. By following the programme you will know what they should be working on every week.
Junior Social Night
Junior Club Night is a fantastic way to get to know people at the Club. There are 2 sessions with the following useful guidelines but if you are unsure about what time to attend, please speak to your coach:
5pm to 6pm - for beginners / 10 years & under / Kiwi Tennis squads - red, green and orange
6pm to 7pm - 11 years plus (unless a beginner) / Kiwi Tennis squads - bronze and above
Free for members and non-members pay $10 to participate.
Your Kiwi Tennis Coach will be running the courts, with match play coaching and drills and LOTS OF LAUGHS!
All Junior members, of all ages are welcome at Junior Club Night
New Junior members are welcome to come along and give it a go before joining
Bar will be open on Junior Club Night
Please remember that this is parent/volunteer session so please volunteer to help out!