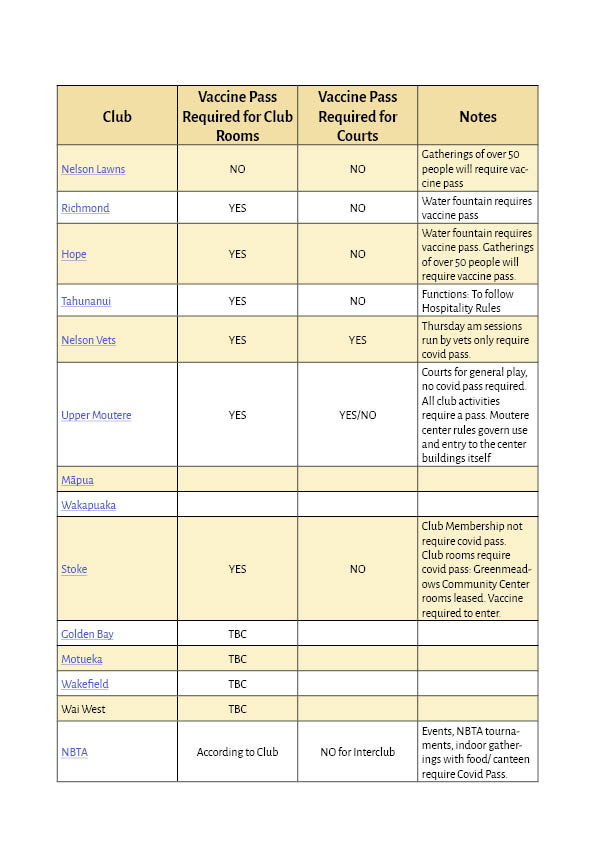 NBS Senior & Junior Interclub Leagues
Nelson Bays Tennis Association organises and runs both senior and junior interclub during the summer season. A Covid Pass is not required to play interclub but players must adhere to the covid regulations of the clubs they are playing at. Please see the table of Clubs and Covid Pass Requirements here.
The 2022 seasons interclub dates are:
January 10th -17th: Open period for new entries or changes to team make up allowed for post Xmas competition
Monday 7th February '22: Interclub Summer 2022 competition starts
Sunday 27th March '22: End of Summer 2022 Competition
For post Xmas competition, due to a lack of time no official week can be set aside for make up games. Note: Latest possible date for make up matches related to covid delays on your own time and to enter results is 1st June '22.
March 29th knock out round Cameron Cup with Finals Saturday April 2nd
Thursday 14th April '22: NBS Senior Prize Giving postponed to later in the year TBC
April 17th: Easter
NBS Senior Interclub Spring 2021: Draws and results link for Monday Am Competitive Women and Competitive Mens Doubles White only
NBS NBS Senior Interclub Summer 2022 : Draws and results links:

.
12th Feb - Junior Summer Competition starts.
Date March 19th TBC - interclub wrap up and prize giving.