Club Services
See below for information on:
Open hours
Site map
Parking
Alcohol
Access cards
Wi-Fi
Merchandise for sale: club polo shirts
Club supplies: what to do if supplies (toilet paper, handtowls, detergent, etc) run low
Maintenance: what to do if you find a problem

Open Hours
For non-members/casuals, the club is open from 8am until 30 minutes before sunset.
Club members may access the facility any time but please be very considerate of our neighbours by keeping noise to a mimimum before 8am and after 9pm.

Site Map
Coming soon...

Parking
Coming soon...

Alcohol
The club does not have a liquor license so is not able to sell alcohol. However, club members and their guests (over the age of 18) are able to enjoy BYO wine or beer at the club. Store no alcohol at the club though to ensure children do NOT have access to alcohol and for security reasons. Dispose of empty bottles and cans in the re-cylcing bins inside the clubrooms.

Access Cards
Eligibility: Senior members, junior interclub managers, and parents/guardians of advanced juniors can obtain access cards for access to the clubrooms and Courts 1 and 2. Others may be able to obtain cards on request.
Deposit. There is a $20 deposit for an access card. This deposit is fully refundable if you want to return the card in the future, Just be sure to keep the card in new condition so it can be passed on.
Request. To obtain an access card, first deposit $20 into the Kilbirnie Tennis Club bank account (same account used to pay for your membership). Use "Access Card" in the reference and your name if your account does not include your name. Then e-mail a quick note to the facilities Manager. You can request either a card or keyfob. You will be e-mailed arrangements to pick up the access card.
USE OF ACCESS CARD
How to open club door. To access the clubrooms, hold the card over the reader at the right of the main door. There is a red LED on the reader. When the system reads your card, the main door strike is released (for about 5 seconds) and you can pull the main door open.
There is an intermittent problem with the door. Sometimes it might appear that your card is not working. If this happens, push the door in hard and hold it there while using your card. If no success, pull and push the door for about 5 seconds immediately after using your card. Repeat these steps if still no success. The problem is that the door or door frame have warped over time and sometimes the door latch is pressed against the door strike. When the happens, the door strike fails to open. Pushing the door latch off the strike resolves the problem. Further repairs to resolve this are scheduled.
Gate to Courts 1 & 2. Opening the clubroom door with your card also releases the strike on the gate to courts 1 and 2. The gate strike remains open until the clubroom door is shut. Thus, to keep the gate open, you'll need to latch open the main clubroom door. There are gate lock override buttons on the left hand side just as you enter the main clubrooms doors (on the right when looking at the door from inside the clubrooms) if you have any problems.
Closing up. Close and secure all doors, windows, and gates before leaving. If you opened the clubrooms or courts but other club members remain when you leave, ensure that you hand off responsibility for lock-up to another reliable club member.
Clubroom facilities. The kitchen, bathrooms, lounge, and table tennis facilities in the clubrooms are there for members and their guests to use.
Clubhouse health and safety. Please follow the clubhouse health and safety policies and emergency procedures under Heath and Safety. Be sure the follow any COVID-19 restrictions as well.

Wi-Fi
Wi-Fi is available to club members in the clubrooms. There are two networks: Kilbirnie Tennis Club (2.4GHz band) and Kilbirnie Tennis Club 5GHz (5GHz band). E-mail the Facilities Manager for a password.
Though communication over the club Wi-Fi networks is encrypted and password protected, you should still practice good public network safety:
Don't log in or send personal information to websites that are are NOT fully encrypted.
Don't leave your laptop, tablet, or smartphone unattended.
Don't stay permanently signed in to accounts. When you've finished using an account, log out.
Don't use the same password on different websites. It could give someone who gains access to one of your accounts access to many of your accounts.
Consider using a virtual private network (VPN). VPNs encrypt traffic between your device and the internet, even on unsecured networks.
Keep your browser and security software up-to-date.
Pay attention to warnings from your web browser if you try to visit fraudulent websites or download malicious programs.
When using the Club Wi-Fi networks, act in ways that uphold the Club's reputation and do not bring the club into disrepute. This means that you must not use the Club's networks to:
Download or upload obscene, offensive or illegal material.
Invade another person's privacy and sensitive information.
Download or upload movies, music and other copyrighted material and software.
Visit potentially dangerous websites that can compromise the safety of our network and computers.
Perform unauthorized or illegal actions, like hacking, fraud, buying/selling illegal goods and more.
The Club retains the right to monitor websites visited by users of the Club networks.

Club Polo Shirts
These attractive Kilbirnie Tennis Club branded polo shorts are available for purchase at the clubrooms.
Sizes: Mens S, M, L, XL; Women's 10, 12, 14.
Cost $30 per shirt.
E-mail the Merchandise Manager to arrange time to try on one for fitting and possible purchase. Easier arrangements coming soon.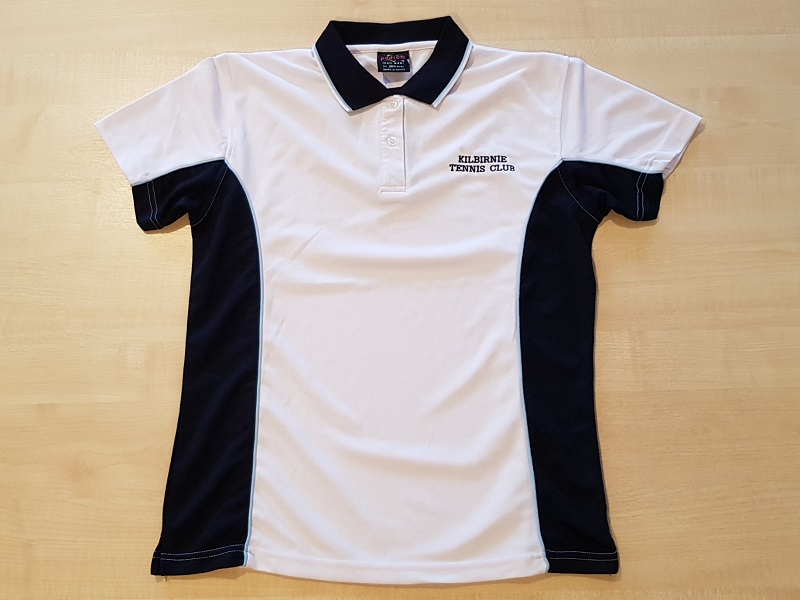 Supplies
Coming soon...

Maintenance
Coming soon...