Teen Tennis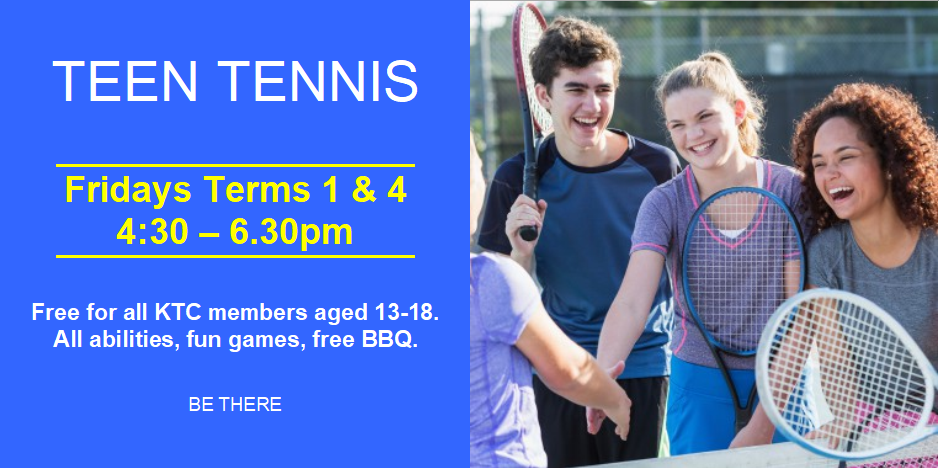 Teen Tennis is a dedicated session for junior club members aged 13-18 to enjoy tennis together. It includes a free BBQ, lots of fun games, and a little competition. It's designed for teenagers of all abilities.
Courses

Costs
There is no cost for Kilbirnie Tennis Club junior members. The course is open to Club members only. Non-members may try-out a session for FREE before joining.

Start Dates and Duration
Teen Tennis Term 4 2021 sessions begin Friday 22 October 2021. Duration 8 weeks.
Teen Tennis Term 1 2022 sessions begin Friday 4 February 2022. Duration 8 weeks.

Wet Weather Cancellations
If bad weather, sessions may be deferred to the following week and programme extended by a week. If too many rain-offs, the number of sessions may be reduced.
Session cancellation notices will be posted about an hour before the start of lessons.

Coaches
Teen Tennis is led by our professional PLANITPRO coaches.

How to Sign Up
Just turn up a little early for your first session.

What to Bring
Bring along your racquet, or if you don't have one you can borrow one at the club.
Wear comfortable clothes and suitable trainers and don't forget to bring a water bottle.

Bring Your Friends
Tell your friends and family about Teen Tennis and bring them along too. First try-out lesson for non-members is FREE.

Be there!