Club Champs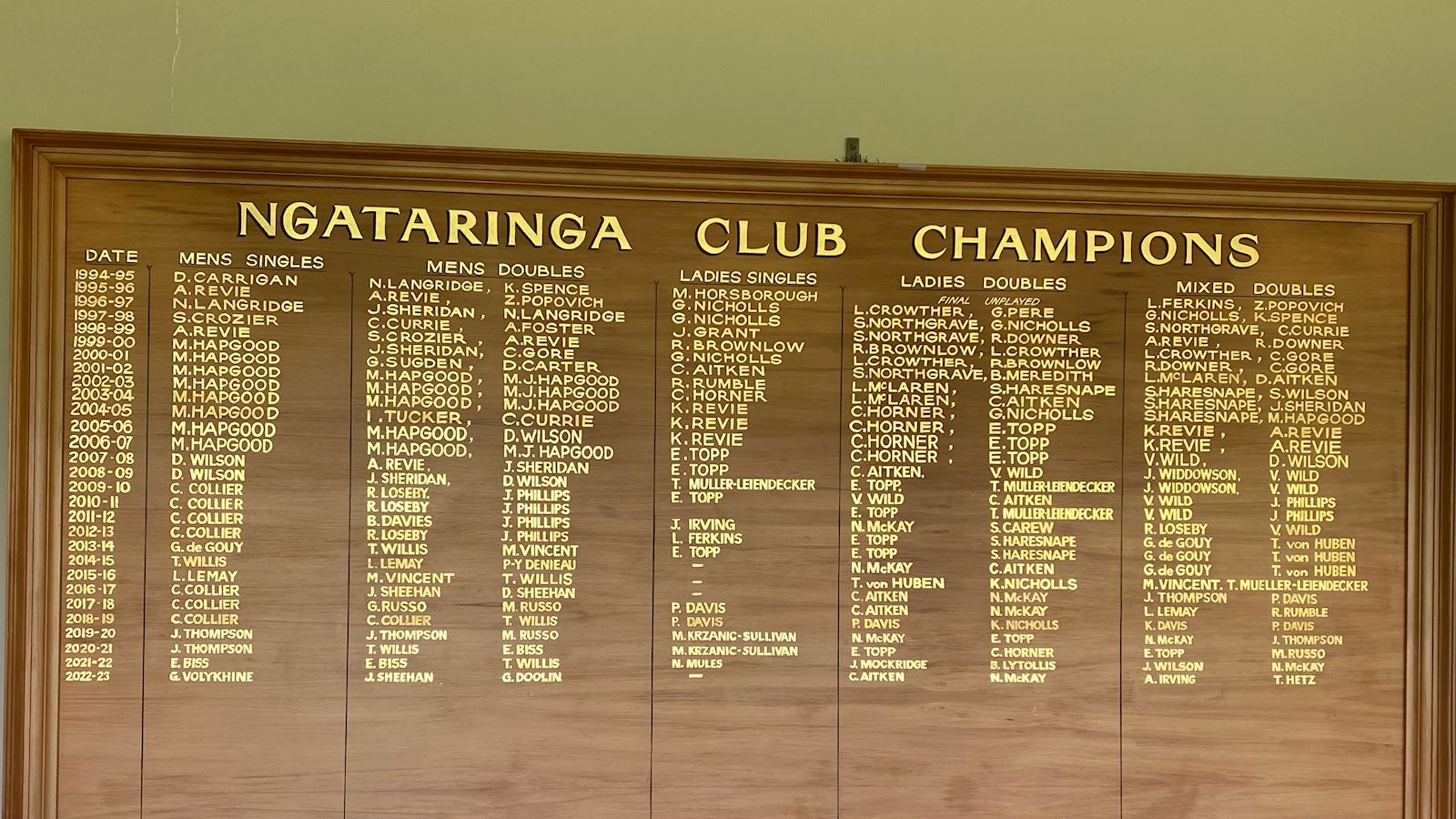 The Ngataringa Tennis Club has held an annual Club Championship for members since its very first year of existence, being the 1927-28 season. It appears that for the first four seasons, only Mens and Ladies Singles Championships were held, with Ladies, Mens, and Mixed Doubles Championships being introduced in 1932.
The Championships were temporarily suspended during 1943-45 because of World War II when the Clubhouse, and Stanley Bay Park, were being used by the NZ defence forces.
There are also missing records from 1957 to 1968. It may be assumed that the Championships were played, however there are no existing records, engraving on cups, or names on the Honours Boards in the Clubhouse to indicate any had taken place.
Today, there are separate Championships for Seniors, Midweek Ladies, and Juniors.
Past Champions from 2010
Ladies Singles
2023 -
2022 Nicky Mules
2021 Mala Krzanic-Sullivan
2020 Mala Krzanic-Sullivan
2019 Patience Davis
2018 Patience Davis
2017 -
2016 -
2015 -
2014 Ero Topp
2013 L. Ferkins
2012 Julie Irving
2011 -
2010 Ero Topp
Mens Singles
2023 Gage Volykhine
2022 Eddie Biss
2021 Jake Thompson
2020 Jake Thompson
2019 Conor Collier
2018 Conor Collier
2017 Conor Collier
2016 Lucien Lemay
2015 Tama Willis
2014 Gilles de Gouy
2013 Conor Collier
2012 Conor Collier
2011 Conor Collier
2010 Conor Collier
Ladies Doubles
2023 Cheryl Aitken & Natalie McKay
2022 Bev Lytollis & Jacquie Mockridge
2021 Ero Topp & Claire Horner
2020 Ero Topp & Natalie McKay
2019 Patience Davis & Kate Nicholls
2018 Cheryl Aitken & Natalie McKay
2017 Cheryl Aitken & Natalie McKay
2016 Trudie von Huben & Kate Nicholls
2015 Cheryl Aitken & Natalie McKay
2014 Ero Topp & Sue Haresnape
2013 Ero Topp & Sue Haresnape
2012 Natalie McKay and Sharon Carew
2011 Ero Topp & Trixie Mullier-Leiendecker
2010 Vicky Wild & Cheryl Aitken
Mens Doubles
2023 John Sheehan & Gerard Doolin
2022 Eddie Biss & Tama Willis
2021 Eddie Biss & Tama Willis
2020 Jake Thompson & Marcello Russo
2019 Conor Collier & Tama Willis
2018 Gianni Russo and Marcello Russo
2017 John Sheehan & Danny Sheehan
2016 Mark Vincent & Tama Willis
2015 Lucien Lemay and Pierre-Yves Denieau
2014 Tama Willis & Mark Vincent
2013 Richard Loseby & J … Phillips
2012 B … Davies & J … Phillips
2011 Richard Loseby & J … Phillips
2010 Richard Loseby & J .. Phillips
Mixed Doubles
2023 Tania Hetz & Allister Irving
2022 Natalie McKay & Josh Wilson
2021 Ero Topp & Marcello Russo
2020 Natalie McKay & Jake Thompson
2019 Patience Davis & Ken Davis
2018 Lucien Lemay & Raewyn Rumble
2017 Jake Thompson & Patience Davis
2016 Mark Vincent & Trixie Mueller-Leiendecker
2015 Gilles de Gouy & Trudie von Huben
2014 Gilles de Gouy & Trudie von Huben
2013 Gilles de Gouy & Trudie von Huben
2012 Richard Loseby & Vicki Wild
2011 J .. Phillips & Vicki Wild
2010 J .. Phillips & Vicki Wild
Midweek Ladies Singles
2023 -
2022 Trudie Von Huben
2021 Ero Topp
2020 -
2019 Agi Lehar-Graham
2018 Maryann Brown
2017 Ero Topp
2016 Natalie McKay
2015 Ashley Jolly
2014 Ero Topp
2013 Ero Topp
2012 Jane Hawkins
2011 Natalie McKay
2010 N … Gray
Midweek Ladies Doubles
2023 Florence Besson & Jane Walden Green
2022 Cheryl Aitken & Natalie McKay
2021 Ero Topp & Claire Horner
2020 Cheryl Aitken & Natalie McKay
2019 -
2018 Natalie McKay & Ashley Jolly
2017 Natalie McKay & Cheryl Aitken
2016 Cheryl Aitken & Natalie McKay
2015 Natalie McKay & Cheryl Aitken
2014 Ero Topp & Sue Haresnape
2013 Ero Topp & Sue Haresnape
2012 Sharon Carew & Natalie McKay
2011 Sharon Carew & Natalie McKay
2010 Ero Topp & Claire Horner
Past Champions before 2010
Women's Singles
2009 Trixie Muller-Leiendecker
2008 Ero Topp
2007 Ero Topp
2006 Katie Revie
2005 Katie Revie
2004 Katie Revie
2003 Claire Horner
2002 Raewyn Rumble
2001 Cheryl Aitken
2000 Gaynor Nicholls
1999 Rixt Brownlow
1998 Jill Grant
1997 Gaynor Nicholls
1996 Gaynor Nicholls
1995 Megan Horsborough
1994 Gaynor Nicholls
1993 Denise Rowe
1992 Denise Rowe
1991 Sonya Northgrave
1990 Sonya Northgrave
1989 Sonya Northgrave
1988 Sonya Northgrave
1987 Lynn Pattle
1986 Sonya Northgrave
1985 C. Hughes
1984 Hope Spragg
1983 Liz Woodley
1982 Mata Forbes
1981 J. Cross
1980 Mata Forbes
1979 R. Stroud
1978 R. Stroud
1977 R. Archibald
1976 A. Mercer
1975 J. Finlayson
1974 A. Mercer
1973 J. Finlayson
1972 C. Trevithick
1971 L. Brown
1970 L. Brown
1969
1968
1967
1966
1965
1964
1963
1962
1961
1960
1959
1958
1957
1956 G. Guildford
1955 M. Robins
1954 Sally Lund
1953 P. Vallely
1952 B.E. Cosnett
1951 B.E. Cosnett
1950 R.A. Ryan
1949 R.A. Ryan
1948 C. Anderson
1947 K. Margerison
1946 F. McDonald
1945 Not played
1944 Not played
1943 Not played
1942 Mrs J.D. Bull
1941 B. Forgie
1940 M. Pollard
1939 M. Pollard
1938 N. Turner
1937 M. Pollard
1936 M. Pollard
1935 M. Pollard
1934 E.C. New
1933 E.C. New
1932 M. Waddell
1931 B. Hemus
1930 K. Johnson
1929 J. Daniel
1928 J. Daniel

Mens Singles Championship
2009 David Wilson
2008 David Wilson
2007 Matt Hapgood
2006 Matt Hapgood
2005 Matt Hapgood
2004 Matt Hapgood
2003 Matt Hapgood
2002 Matt Hapgood
2001 Matt Hapgood
2000 Matt Hapgood
1999 Alan Revie
1998 Simon Crozier
1997 Neil Langridge
1996 Alan Revie
1995 David Carrigan
1994 David Carrigan
1993 David Jonkers
1992 David Jonkers
1991 David Carrigan
1990 David Jonkers
1989 David Jonkers
1988 John Sheehan
1987 John Sheehan
1986 John Sheehan
1985 David Jonkers
1984 David Jonkers
1983 John Sheehan
1982 Ken Jack
1981 John Sheehan
1980 John Sheehan
1979 John Sheehan
1978 Ken Jack
1977 John Sheehan
1976 John Sheehan
1975 Phil Carrigan
1974 Ken Jack
1973 Ken Jack
1972 H. Owen
1971 J. Hume
1970 J. Hume
1969
1968
1967
1966
1965
1964
1963
1962 R. Tye
1961
1960
1959
1958
1957 W.H. (Bill) Harden
1956 W.H. (Bill) Harden
1955 W.H. (Bill) Harden
1954 D.G. Pettett
1953 H.H. Hoyte
1952 H.H. Hoyte
1951 H.H. Hoyte
1950 H.H. Hoyte
1949 H.H. Hoyte
1948 H.H. Hoyte
1947 H.H. Hoyte
1946 B. Nelson
1945 not played
1944 not played
1943 not played
1942 R. Proctor
1941 R. Proctor
1940 R. Steele
1939 R. Steele
1938 J.D. Bull
1937 J.D. Bull
1936 N.R. Haggett
1935 N.R. Haggett
1934 N.R. Haggett
1933 N.R. Haggett
1932 H. Anderson
1931 R. Dance
1930 N.R. Haggett
1929 J. Storry
1928 N.R. Haggett

Ladies Doubles Championship
2009 Ero Top & Trixie Muller-Leiendecker
2008 Vicky Wild & Cheryl Aitken
2007 Claire Horner & Ero Topp
2006 Claire Horner & Ero Topp
2005 Claire Horner & Ero Topp
2004 Claire Horner & Gaynor Nicholls
2003 Cheryl Aitken & Linda McLaren
2002 Sue Haresnape & Linda McLaren
2001 Sonya Northgrave & Bev Meredith
2000 Lynn Crowther & Rixt Brownlow
1999 Lynn Crowther & Rixt Brownlow
1998 Sonya Northgrave & Rachel Downer
1997 Sonya Northgrave & Gaynor Nicholls
1996 Lynn Crowther & Gail Pere
1995 not played
1994 Sonya Northgrave & Lianne Hughes
1993 Sonya Northgrave & Lianne Hughes
1992 Lynn Crowther & J. Garil
1991 Lynn Crowther & J. Garil
1990 Sonya Northgrave & Lynn Pattle
1989 Maureen Nute & Frances Downs
1988 Sonya Northgrave & Lynn Pattle
1987 Sonya Northgrave & Marvyn Allan
1986 Sonya Northgrave & Frances Downs
1985 C. Hughs & Frances Downs
1984 Hope Spragg & Liz Woodley
1983 Karen Leyden & Anne Thackray
1982 Maureen Nute & Toni Green
1981 Laurel Jonkers & Frances Downs
1980 Mata Forbes & L. Tonner
1979 Laurel Jonkers & Jane Cross
1978 Laurel Jonkers & R. Stroud
1977 S. O'Brien & Kaye Worrall
1976 S. O'Brien & F. Herbert
1975 S. O'Brien & Kaye Worrall
1974 S. O'Brien & L. Deane
1973 J. Finlayson & A. Mercer
1972 P. Williamson & M. Lynne
1971 P. Williamson & M. Lynne
1970 P. Williamson & L. Brown
1969
1968
1967
1966
1965
1964
1963
1962
1961
1960
1959
1958
1957
1956 Mrs Christie and Miss Nieman
1955 Mrs Sund & Sally Lund
1954 I.M. Pollard & N.C. Hoyte
1953 I.M. Pollard & N.C. Hoyte
1952 I.M. Pollard & B. E. Cosnett
1951 I.M. Pollard & S. Lyfield
1950 F. McDonald & C. Anderson
1949 I.M. Pollard & Mrs Ryan
1948 I.M. Pollard & Mrs Ryan
1947 F. McDonald & A. Malone
1946 F. McDonald & A. Malone
1945 not played
1944 not played
1943 not played
1942 I.M Pollard & Mrs M. Worrall
1941 I.M. Pollard & Mrs M. Worrall
1940 I.M. Pollard & Mrs M. Worrall
1939 I.M. Pollard & Mrs M. Worrall
1938 I.M. Pollard & Mrs M. Worrall
1937 I.M. Pollard & Mrs M. Worrall
1936 I.M. Pollard & Mrs M. Worrall
1935 I.M. Pollard & Mrs M. Worrall
1934 Miss Lund & Mrs Jones
1933 M. Waddell & E.C. New
1932 M. Waddell & K. Johnson